Small Business Saturday, Featuring Shadab Kazi, Owner of Cratefulmom

Shadab Kazi has always known how to turn the word 'thoughtful' into a verb. Finding joy in creating the perfect gifts for people, she decided to create a business out of it. She began passionately creating cratefuls to make people happy, perfectly crafting every detailed element to speak to the person receiving it, evoking their senses and letting them know the sender truly cares.
Her crates are unique and beautiful and can be customized for any person and/or occasion. With rave reviews from past customers, we can't wait to order one ourselves!


From Valentine's Day, to birthdays and Christmas, to 'just because' cratefuls, Cratefulmoms has you covered! We got to learn a bit more about this momprenuer, the inspiration behind her business, and her favorite thing about being a business owner in Katy. Shadab's interview is below!

Where are you from originally and how long have you lived in Katy?

I'm originally from Pakistan and lived in Katy since February, 2017.

You're a mama, how many kiddos do you have and how old are they?

Yes a mom to a 5 year old and a 3 week old! My first born's name is Mekaeel and our brand new baby, born this Halloween night is named Meer.

What was the inspiration behind starting your business?

Once I had my first baby I started reconsidering the true meaning of joy.  Until then I had never realized that bringing joy through presents, comes to me naturally. While growing up, I was taught the value of giving through meaningful gestures, which truly leaves an impact on both the sender and recipient.


My mother introduced to us the 'thoughtful giving' in action as an everyday reflex. She is truly my inspiration as she has spent her life in bringing joy to people around her in the most unique ways.
So when I started creating gifts for people close to me for their special days, it became like a behavioral muscle, that I just needed to exercise.
With time it kept getting stronger the more i used it. So in short my mother and her act of thoughtful giving and bringing joy to people around her was and has been my inspiration.

What did you do before opening your business and what year did you open?

I have a bachelors degree in Communication design and have worked for a leading, multinational, pharmaceutical company for almost a decade, as their head of corporate communication and also led the in-house Graphic design department. Then later on went for managing their CSR and Media relations for their products. After my first born, i spent a lot of time trying to fight the monotonous work schedule that was draining my creative energy. Thats when i decided, i need my work to reflect what i am passionate about, communicating through design to bring about behavioral and social change. Cratefulmom came into existence in February,2017.

Tell us about the services you provide and what makes you unique?

We create thoughtful, meaningful, bespoke gift crates. Our gift crates are all one of a kind, as they are designed and themed around the relation between the recipient and the sender.
Each crateful is unique as it expresses with each element and has one liners attached to them, which only those two individuals share between them.


Our cratefuls of love and joy are carefully conceptualized, designed, compiled with hand-picked elements, packed with care and made with love. Our cratefuls stand out by reflecting on the term 'it is truly the thought that counts'!

What are some things you specialize in?

We specialize in personalized and customized gift crates for moments that require a crateful of love to make someone's day. We have created motivational cratefuls for individuals who can surely use a 'you got this crateful' | we have created cratefuls of comfort for new moms, a crateful of congratulations for fighting cancer, a crateful of hope for those who need it the most. From Christmas cratefuls to graduation celebrations, From Birthdays to Anniversaries, We create cratefuls for any reason or season.

What's your favorite thing about being a business owner in Katy?

The support of the community towards local businesses, no matter how big or small they are. The positive uplifting attitude, that reflects on rising by rising others.

How do you think the Katy area community will impact your business?

The Katy area community is quite diverse and yet so closely knit together. We believe that because of this closeness we can help be a part of their joy with our cratefuls, in helping them bond even more. For example imagine if we could create a small welcome crateful for every new business owner on behalf of Katy moms network, just as a big hug to show them, how truly welcome they are or be it through any other platform, by giving joy we get joy and it increases as it spreads.

Greatest joy about making gifts for people?

We love getting to know the love and bond people share, their likes, their must haves, what their favorite flavors are, and when we start the process of creating a mood board by asking questions about the recipients from the senders, we help them explore so much more about them, we help them bond more.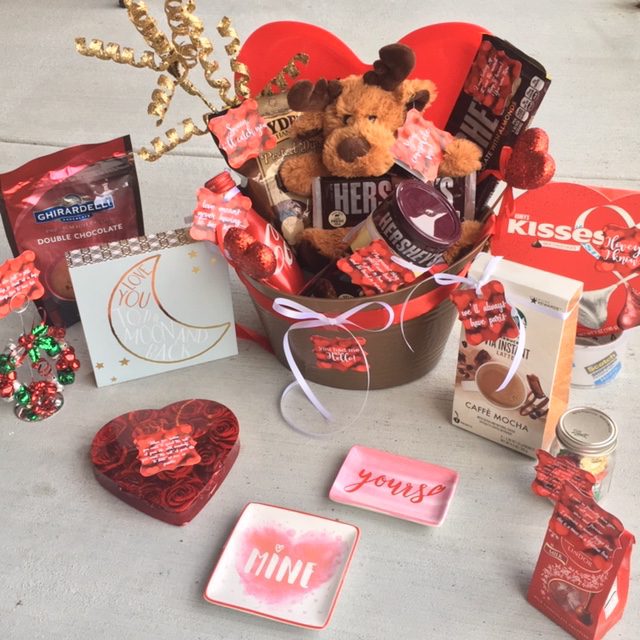 When we receive feedback  about the unboxing process by the recipient and the happiness it brings to the sender and the recipient is priceless. In between the tears of joy, the excitement, the sparkle in their eyes, every effort we make in being a small part of their joy it completely worth it!

 What's one thing you'd like to go back and tell the you before you were a business owner?

Don't be afraid to start following what you believe in. Creative hunger for people who are creative can never be satisfied, stay hungry, keep creating.

Advice for anyone wanting to start their own business?

Always ensure your business model focuses on passion for people and performance will deliver itself. Practice compassion and genuine care for customer needs, everything else will follow through. Your values are what sets you apart, do not lose them in the process. Your time is the most valuable asset, prioritize projects and your life accordingly. Take a break to be inspired and lastly inspiration can come and does come from the simplest of experiences, for example through reading stories with your kids, conversations with your mom, a bag of chip and a nice movie, not necessarily in the priciest of experiences.

When things get hard, what's one thing you tell yourself to keep going when running a business?

Just keep swimming! As long as i can get through that one day i can make it. One day at a time, might look like baby steps, however, if i am consistent, i will get there.

How do you balance being a business owner, wife, and mama?


I have learnt and am still learning to balance my work and life. Being a wife and a mom brings in much more to the plate. I am passionate about my work and hence have stopped treating it like work and more like therapy. It brings my mind at ease and keeps my creative hunger satisfied. As for my family, they fulfill my emotional purpose and give me a sense of belonging. So i take solace in each aspect and am truly blessed, to have that sense of accomplishment in both aspects of my life. Let's just say my family and my work life compliment one another.


Future plans for your business?

I have recently expanded the business with the help of my sister in Dubai and she is managing the Dubai and Pakistan region. We plan to collaborate with brands next year to have brand specific cratefuls that will have all elements from one brand with our personalized touch to give it a complete crateful of love experience and lots lots more.

Holiday deals & discounts our Katy Moms can look out for?

All Katy moms who follow us through our Facebook and Instagram page can inbox us their Christmas crateful orders and provide us with Code: KATYMOMSROCK upon order, which we will give them a 15% discount on Christmas cratefuls.

For more information on Cratefulmom and to order, make sure to head to their website and follow them on social media!