It's almost SPRING TIME, y'all!! We don't know about you, but this is our favorite time of year. We just want to be outside ALL the time and enjoy the sunshine! And, it always has us thinking about capturing these precious moments – whether that be bluebonnet pictures, updated family pictures, celebrating early birthdays – there are so many beautiful backdrops in Katy! Now you just need the right photographer!
The Houston area is full of gifted photographers, but we think Katy, TX has some of the very best. These women, all mothers themselves, took a passion and a talent and turned it into a business – a business that blesses others. Here at Katy Moms Network, we stand in awe of the photographers we've come across and those who've taken photos of our family, celebrations, and milestones throughout life.
The following photographers have different specialties, styles, uniqueness, but they all have one thing in common. And, that's that they're the best at what they do. So without further adieu, we bring you Katy Moms Network's Spring Guide to Katy's Best Photographers. And, be on the lookout for exclusive discounts!
Claire is a fun loving coffee drinking Scottish Mum of two that recently moved to Katy, Texas! She lives with her two crazy kids, Sophie & Callum, and her amazing husband, Andy. They love traveling, sports, eating out, cinema trips, and (no one is more shocked than Claire) camping!
Her aim is to capture the essence of your personality and the connections within your family, so she can give you the modern but timeless images to treasure forever. And, in a digital world, provide art that you can display in your home! Because of this, she doesn't use a lot of props in her photography, she prefers the focus to be on you and your loved ones.
Claire has a passion for photography and for capturing the milestones within your life, as well as the everyday. So, whether it be a maternity, birth, newborn, family session, or for no reason other than to have updated photos to treasure. She looks forward to meeting you and making magic happen with lots of love and laughter.
Taylor is the founder of Gardner Photography and devoted mother to two beautiful children.
She's a Houston photographer, storyteller, and mental health advocate.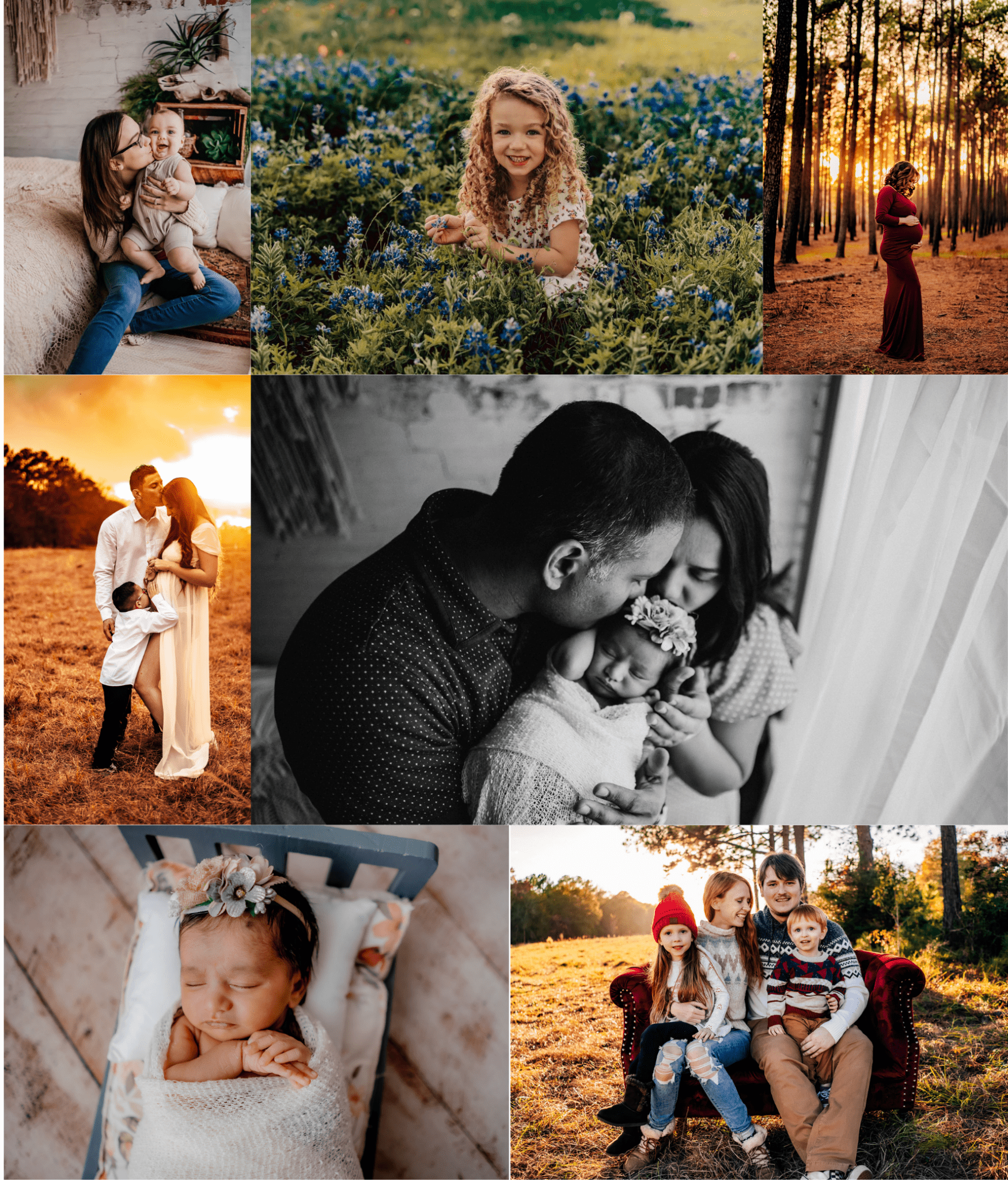 Juliana is a full time mama and owner of Jujuu Photography. She is God loving, organic, natural light photographer based in Cypress, however, she has many locations available from Katy all the way to Mavel, Texas!
She started her photography journey by capturing sweet moments of her own babies and family then with the encouragement of her better half, Juliana began doing photography for friends, family, neighbors and referrals at no cost and accepted donations in hopes of one day being able to go on with her dream career full time. God has his perfect timing and in the midst of thinking the world was falling apart as she had to leave the corporate world to stay home and raise her babies, what once was a dream slash hobby started becoming her reality!! Photography is her passion and capturing detailed shots and candid moments makes her heart warm, the open country and cows are her happy place, she is obsessed with whites, neutrals, pastels and her favorite of all – blush! Throughout her sessions you will feel right at home as if you have known her for years, she is such a sweet soul and loving person. Juliana is amazing with your little ones and her favorite is chasing toddlers during her sessions!
Mention KMN and get 10% off a one hour session!
Now offering 2 styles: 
Lillian Walcott Photography
Lillian Walcott is a natural light photographer who specializes in children, maternity, high school seniors, and family photography.  She started off as a momtographer, a mom who take excessive photos of her kids. After friends and family members contacted her numerous times asking if she was a photographer, Lillian decided to invest into becoming a professional photographer by completing photography workshops and classes.
Lillian serves Katy and the surrounding Houston areas, and provides studio and on-location photography services.
Website: https://www.lillianwalcottphotography.com/
Facebook: @LillianWalcottPhotography
Instagram: @LillianWalcottPhotography
Email: [email protected]
Light & Matter Photography
Katie is the founder & photographer of Light & Matter Photography LLC. She is a born and raised Katy-ite and is proud of it! Light & Matter Photography offers newborn lifestyle, newborn studio, family lifestyle, senior, and wedding photography! Katie's approach to photography sessions focus on a lifestyle feel and she strives to capture those beautiful photos, as well as the precious in-between moments. She has three little boys, so she knows how the little moments matter, and also how quickly they go by. Her passion for family/newborn photography really focuses on getting mom in front of the camera (because we alllll know who is usually behind the camera in their own home, cough, cough, I'm looking at you, dads… take the photo of mom for a change!) and for the family to shine with her in the frame as well! Wedding photography also has a very special place in her heart as she loves documenting one of the most important days in couples' lives with a fine art approach. All sessions focus on the use of natural light both within and outside of the home.
She would love to capture your family, whatever life phase you are in, so feel free to give her a call or send over an email with what you're looking for! Just don't hesitate too long because she books up faaaast!
Erin Cheatham is the owner & photographer behind Little Fig Photography. Established now for over 10 years and now based in Katy, Erin is an on-location, natural light lifestyle and portrait photographer with a focus on capturing natural and timeless images. Erin loves connecting with people and strives to get to know each of her clients. Nothing is more of a compliment than when clients return and she has the opportunity to watch as your family grows. She really comes alive when she is able to capture the fleeting moments and expressions otherwise lost to time.
Photography is a gift that is part of her DNA; her grandfather had a passion for photography and built his own dark room in a tiny closet to develop his photos back in the day. Additionally, capturing life in images has been a part of Erin's life for as long as she can remember. From always seeing her mom with a camera in hand to building scrapbooks and photo albums in an effort to keep her memories alive for years to come. Being able to do this for her clients brings her back to the core of who she is! She furthered her journey with a photography class, right here, at Katy High School, followed by studying film photography at Baylor University.  She now lives in Cinco Ranch with her husband and two boys and loves the opportunity she has now to service the community where she grew up.
She would be honored to capture you or your family and she will do it in the most authentic and natural way! Send her an email or give her a call with what you are looking for.
Mention KMN and get 10% off a full portrait session! *does not apply to mini sessions
Website: https://www.littlefigphotography.com/
With over 10 years of experience, Adrienne has perfected the art of capturing families in a natural and candid way. As a mom of three young children, she embraces the chaos and creates a fun environment for your photo session. 

Oak and Ember is located right in the heart of Old Katy, with a studio on Avenue C. It is filled with an amazing wardrobe that clients are welcome to use. Whether you are looking for an intimate studio session or an outdoor sunset session, Oak and Ember is where your search ends. MATERNITY . NEWBORN . FAMILY
Website: https://oakandemberphoto.com/