Small Business Saturday Featuring Republic Gymnastics & Dance

Today's Small Business Saturday feature is also a Katy Moms Network Tried & True. We love this gym and their dedication to families, as well as their commitment to giving back and to community. When you've got little kids, who are also very active, gymnastics seems to be one of the first activities you look into. Especially if you've got a girl and a boy, it's something both kiddos can do together. When we started looking into gyms in the area, there were many amazing facilities to choose from. What it came down to for us was, we wanted a place where when our kiddos walked in the door, they were immediately greeted by name, we wanted somewhere they looked forward to going every week, and somewhere that felt more personal. We truly feel like we've found all of that and more in Republic Gymnastics and Dance Center. Week one the entire staff knew us and our kiddos. They treat everyone like family because as a staff, they look at each other like family.


Owners Alicia Schwab and Kevin Kubeczka have fostered an environment where the staff can have a career, but also be the parent they want to be. Most of the directors and coaches are women and mothers themselves and most bring their kiddos and babies in as they work and teach. That family first environment and mindset trickles over to how they treat the parents and kiddos who are enrolled there and it's what keeps us all coming back.

Republic was built on the dreams, blood, sweat and tears of the owners Alicia and Kevin. It's a building equipped with top of the line gymnastics equipment, a 3,000 sq.ft. dance studio and two additional studios, pro-shop, cafe, and tree house. Not only did the owners want to build an amazing facility, but they also wanted a place that was welcoming and family oriented.

We're not sure how they've created such a sense of warmth in their giant Republic 48,000 state-of-the-art sq.ft. facility, but it's why we continue to host our Mama Meet Ups there. We want you all to feel that and enjoy meeting and connecting with other local moms!

Republic offers many programs for ages walking to eighteen years through gymnastics, dance, ninja warrior, and tumbling programs. In addition to their classes they offer many extra events including Preschool Play Time, Parent Tot Time, Parent's Night Out, Parent's Day Out, Summer Camps, Birthday Parties, Tumble Clinics and more. Republic also hosts regular vendor fairs that help support local small businesses and give back to charities in the community.

We sat down with the amazing, inspiring, strong mamas behind Republic and included our interview with them below! Find out what inspires them most in business, their favorite things about being a business owner in the Katy community, and future dreams and plans for their business.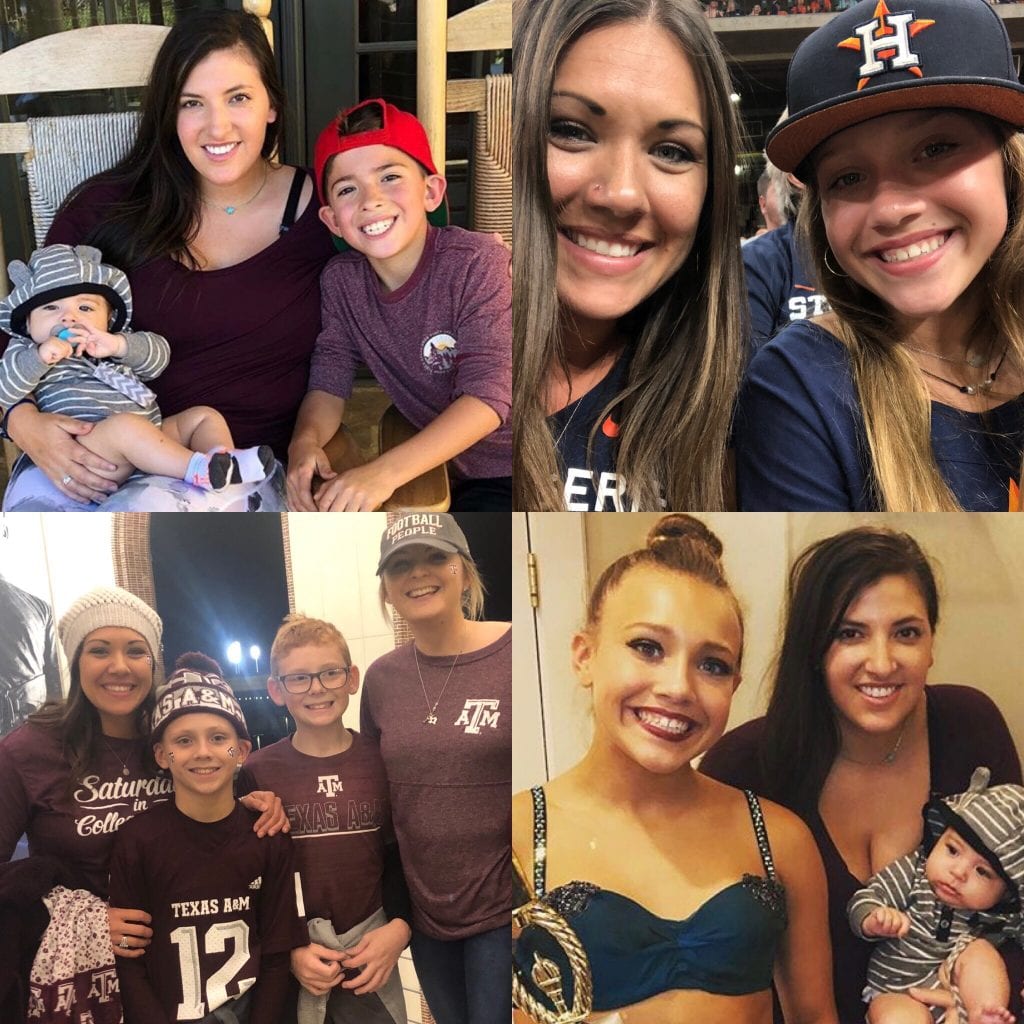 Who's Who at Republic
Alicia Schwab and Kevin Kubeczka, Owners
Kristi Mattheessen, Office Director / Event Coordinator
Christina Sefara, Dance Director
Where are you from originally and how long have you lived in the Katy area?

We all grew up in Katy!

All love that Republic is run by all women and mamas- how many kiddos do you have between the three of you?
We have 5 children between the three of us. Alicia has Kylie and Kash. Kristi has Connor. Christina has Brayden and Beckham.
What did you do before opening Republic and when did you finally open your doors?
Alicia has been in the gymnastics & dance industry since high school and was working in the oil and gas field prior to opening, Kristi was working in multifamily construction, and Christina was working as a dance director. Alicia and Kevin opened Republic on April 23rd 2018.
Tell us Republic Gymnastics & Dance Center and the inspiration behind brining another gym into the Katy area!
We all love the gymnastics & dance industry, health & fitness and kiddos.  We just had tons of ideas and wanted to bring them to life in a facility that fosters a positive, healthy environment for families. 
What makes Republic unique?
We believe what makes us most unique is our partnership with other local and small business' and our community involvement. It is extremely important to us at Republic to be involved in the community and make sure we do what we can to help others above our own needs.
Many have made comments that Republic feels like a family- how did you foster this?
We are so happy people feel this way because it is one of our main goals as a business.  I believe it is our amazing staff that keeps our customers feeling like family.   
Do you all come from dance, cheer, or gymnastics backgrounds?
Alicia grew up doing gymnastics, dance and cheerleading.  She was a competitive cheerleader through college and won a College National Championship her freshmen year with the All Women Southwest Texas Cheer Team.
Christina grew up dancing competitively and also cheered in school.
Kristi grew up involved in multiple activities and sports throughout her life. Some of the sports she has been involved with are competitive swimming, basketball, and soccer in her high school years.
You offer classes to all ages, why do you think it's important to get kiddos out and active and involved in sports like gymnastics?
All of us (Alicia, Kristi, and Christina) were involved in sports or physical activity growing up and all of our children are as well. Not only is being involved in sports or an activity important for a child's growth and well being but in addition it helps them learn the importance of being apart of a team, hard work, dedication, respect and many more important skills that can be beneficial in their life. Particularly being involved in gymnastics it physically tests your limits and is a great sport for physical strength and balance. Gymnastics is also an extremely goal oriented sport. Learning one skill, perfecting the skill, and then learning new additional harder skills. It takes extreme focus, attention, and a lot of perseverance.
Tell us about the talented competitive dance team y'all have and some of their accomplishments!
Our competitive team of dancers range from age 5-18. They train 6 days a week in all styles of dance. They have been awarded "National Grand Champion" 4 times and over the years many of our dancers have earned the titles of Junior, Teen, and Senior Miss Dance America.
Favorite thing about being a business owner?
We love the relationships cultivated with my staff and being apart of building something from ground up, watching it grow and positively impacting children and families.
How has the Katy area community had an impact on your business?
Without the established Katy community we would not be able to meet so many new members and other business' that have really been a key part in our growth. Since our opening we have been able to partner with many local and small business' and owners to share our love of gymnastics and dance with the community such as classes on the green, local events and markets, family fun days, and much more.
What's one thing you'd like to go back and tell the you launched into entrepreneurship?
Plan for the unexpected, be flexible and stay positive!
When things get hard, what's one thing you tell yourself to keep going?
When things seem to be going a little less than "perfect" we here at Republic know it's just a hiccup in the rode and with us three very strong goal oriented business women it gives us more drive to try harder. Giving up or in is never an option and we know the journey with starting a new business is usually not an easy ride. We really rely on each other for support in multiple facets and depend on each other which internally as a business we feel makes us even stronger. We truly are a TEAM.
How do you balance being a business owner and your busy family life?
When they say it takes a village it truly does. We really help each other out because as mothers who work full time you can never have enough time in the day to do everything you would like to or be everywhere you need to be.  We have the same business-oriented goals and work extremely hard but at the day we know when to take a step back and just be MOM. All of our children are involved in sports and school activities and we have been able to balance our schedules with our kiddos and being flexible enough with each other when one of us needs to be a mom because we know the importance of family and our kiddos are our world. 
Besides being an awesome place to take classes, what other services do you provide? (camps, birthday parties, etc.)
Republic Gymnastics and Dance provides many other fun and exciting events in addition to our monthly programs. We offer Parent Tot & Preschool Play Time once a month 9am-1pm for kiddos ages infant to 5 years to come and explore the gym, participate in a craft, meet other moms and kiddos, and have a lot of fun. Once a month we offer a Tumble Clinic 7-9pm for athletes 5 years to 18. They work on level appropriate tumbling skills in addition to learning new skills and working on perfecting current skills. Twice a month we offer a Parent's Night Out from 7-11pm drop-off for children ranging in ages 3 years (potty-trained) to 18 years. There is open gym exploring time, the café is open to purchase food and drink items, along with activities and games.
Republic offers Parent's Day Out 9am-1pm on special occasions which is a drop-off event for ages 3 years (potty-trained) to 18 years. During the summer we offer week long Gymnastics camps for campers ages 3 years to 18. We offer week long Dance camps for ages 5 years to 18.  For our younger dancer we offer a shortened dance camp for them.
Future plans for your business?
Alicia and Kevin have built an amazing facility and have brought together a dedicated staff to help them continue their dream and into future success'. Currently they have the one facility but plan on expanding and potentially building other facilities to meet the needs of the community. Republic would love to be able to offer our programs, expand our community involvement, and really our sense of family and home to other areas of the Katy/Cypress area.
Any special, sales, or deals our Katy Moms can look out for?
We love partnering with Katy Moms Network and plan in the future to offer the followers of KMN special discounted pricing on special events and happenings at our facility.
For more info on Republic and to book your free introductory class, visit their website!

www.republicgymnastics.com & www.republicdancecenter.com