Small Business Saturday, Featuring 9Round 30 Min Kickbox Fitness

We love businesses, products, and workouts that were made for busy parents. Time is something we're all trying to get more of and getting in a good workout, on most days, seems utterly impossible. That's why we love the concept of 9Round. The first 9Round location opened in South Carolina in 2008 by a husband and wife duo who had the desire to help change people's lives.



After only one year in their first location, the first 9Round franchise was sold to a member of the gym, and by 2012, the company had grown to 100 locations. As the brand grew, it became known as a place where you could get a high-intensity workout at an affordable price, on your schedule. Today, there are over 700 9Round clubs open and operating throughout 42 states and 16 countries.

We're lucky enough to have one of those locations right here in Katy, TX because of Jessica and Scott Clements, who are coming up on their one year anniversary of brining 9Round Fitness to Katy next month! Five years ago, after having her second child and working as a dental hygienist, Jessica tried her first 9Round class in Richmond and she was hooked! She knew she needed to bring the concept to Katy.


9Round Kickboxing Fitness- Morton Ranch Road location offers our community a flexible, walk-in, no schedule workout designed to make you stronger, both physically and mentally.  This facility offers a kickboxing themed fitness program that incorporates a functional, interval, cardiovascular, and circuit training regimens. The programs consist of a proprietary system of nine challenging workout stations developed by a World Champion Kickboxer.


We got to chat with the amazing mama behind our Katy location and learn more about what makes 9Round unique and perfect for busy moms, her best advice for someone wanting to dive into entrepreneurship and open their own business, and her favorite thing about being a business owner in our community.

And make sure you follow along with us in the coming weeks as we announce some of the great New Year deals they've got going on! Remember, first class is always FREE!
Where are you from originally and how long have you lived in the Katy area?
I am originally from Midland, Tx, but moved around quite a bit growing up.  I spent a few years in the Houston area as well.  After I got married, we moved to the Katy area and have been apart of this community for 11 years!
Are you a mama as well- if so how old are they?
I am a mom to two kids, my son Harrison is 9 and my daughter Colette is 4!
What did you do before becoming a business owner?
I have been a registered Dental Hygienist for 12 years.  I'm currently not practicing, but of course still love dentistry and secretly evaluate everyone's teeth.  If you are in dentistry you understand, lol!
When did you open the door at 9 Round?
Our very first day to start training our members was January 25, 2018.
What was the inspiration behind starting your business?
After I had my little girl, I knew I needed to make fitness more of a priority.  One of my patients told me about a 9Round Kickboxing Fitness that was close to the dental office where I worked in Richmond, Tx.  I tried it out and loved it!!  It was challenging, but just what I needed to get back to being healthy and fit.  That was almost 5 years ago and here I am now, owning one myself!  I wanted the flexibility with my work that being in dentistry couldn't provide. My past experience in martial arts and fitness in general influenced me to try something new.  I also love a good challenge and owning your own business has definitely pushed me in ways my previous career could not.
Tell us more about 9 Round, what makes it unique, and all the services you provide!
At 9Round Kickboxing we give you a full body workout in just 30 minutes!  We have a 9Round certified trainer on the floor with you guiding you through your workout every step of the way.  Everyday the workouts at each of the nine rounds change, so we are always mixing it up and keeping the workouts new and exciting.  You never know what tomorrow's workout will be, I love that part of it!  No class times so you can get in and workout on your schedule during our gym hours.  Our trainers are awesome and will really help push you to achieve your fitness goals!
Name one thing that makes 9Round unique in your space or industry?
No class times!  You can walk in and get started into your workout when it is convenient for you and have a trainer greeting you and giving you personal/small group training session.  You are never late!  Our unique set up allows for moms to roll their stroller right in the front, get their 30 minute workout in, and head out!!  As a mom I can't stress enough how awesome this is when you are juggling work, kids, after school practices, etc…
If someone is looking to get in shape, but intimidated by kickboxing, what would you tell them?
Since we are kickboxing fitness, we take the intimidation right out of the workout.  Our workouts are designed to incorporate kickboxing elements into a fitness workout that covers the entire body in 30 minutes.  You can get fit without getting hit!  The only kicking and punching we do in our gym is on the heavy bags, speed bags and target pads held by our certified trainers.
Our workouts scale very well to any fitness level.  We can modify the workouts for beginners or members with previous injuries.  We also challenge our more advanced members with our trainer-led pad work.  Pad work is everyone's favorite!
What's the best fitness/health advice you ever got?
It has taken me quite a while to be happy with the body I was born with.  Once I embraced just simply eating cleaner and working out to be healthier, I learned to appreciate how important long term health and fitness is no matter how I look in a swimsuit!  It certainly has changed my focus and was influenced through all the people in this industry that I have met through this journey. And always drink lots of water!
What's your favorite thing about being a business owner in the Katy area?
Katy just keeps growing!!  I love all the new neighborhoods and new people coming to the area!  It really gives business owners the chance to grow and expand their services, as well.
How has the Katy area community had an impact on your business?
The Katy residents close to our gym have been awesome!! We love getting to know everyone and their families.  I think the biggest compliment is the trust and referral of family and friends from our members.  Word of mouth is big, and we are so grateful for the opportunity to be in such a thriving area with great members and to be able to see them reach their personal fitness goals!   
What's one thing you'd like to go back and tell the you before you were a business owner?
Ah, I feel like I have learned so much since day one!  I would tell myself to continue to evolve and never get too comfortable. Also to trust my gut instincts, stop doubting and just take the next step without over analyzing.
Advice for anyone wanting to start their own business?
I would make sure you are really ready to devote the time it takes to make it work.  At the end of the day it all falls back on you, not your employees.  You have to be ready to own your mistakes and move on and try and try again!!
Who inspires you most as an entrepreneur and who inspires you most in motherhood?
Multiple people have inspired me over the years in business, so it's not really just one person.  I love watching any successful business owner evolve and grow their brand.  I am always most impressed by women entrepreneurs that are successful in male-dominated industries.  In my experience, women have to prove themselves more than our male counterparts.  As unfortunate as that might be, its just another challenge to rise above!
And of course my Mom inspires me the most in motherhood!  She is the perfect example of servant leadership, always putting others before herself.  I think that has probably made the biggest impact on me as I got older and became a mom myself.  Now as an employer I see so many similarities in parenting and leadership style.  I could go on and on about my mom, but of course my extended family and friends get some credit too.  I really think it takes a village when going through motherhood!
When things get hard, what's one thing you tell yourself to keep going when running this business?
When things get hard, I always try to refocus on the reasons things are going good.  Appreciating my amazing team and the members that make my gym an incredible place to workout.  I am so thankful for my support team of trainers, friends and family!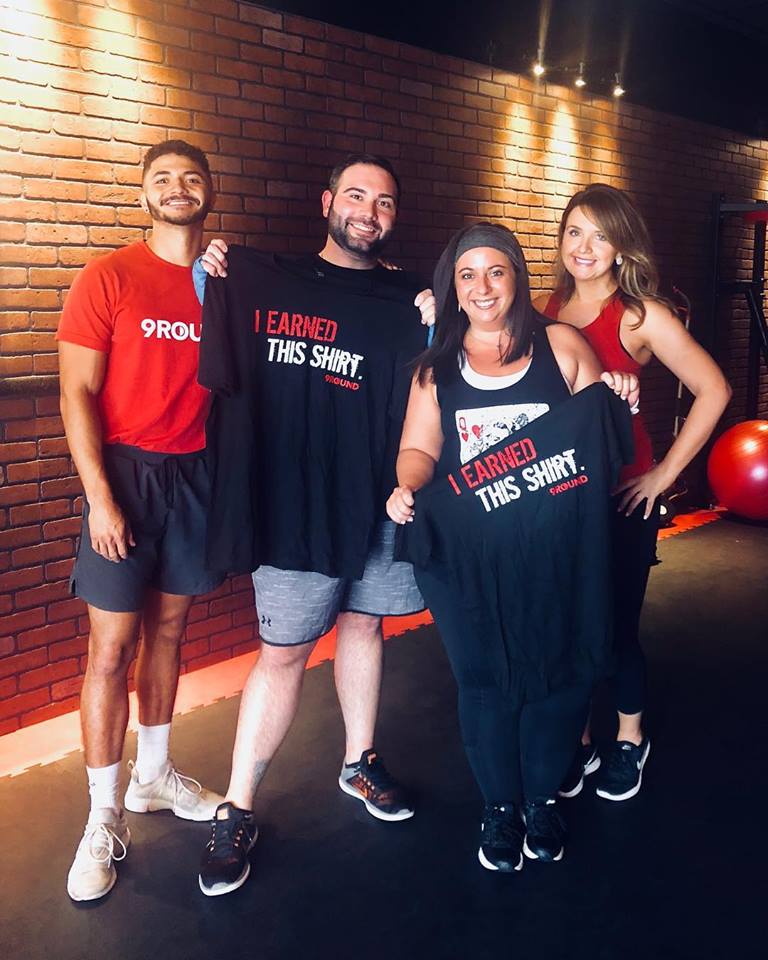 How do you balance being a business owner, wife, and mama?
To be honest, it has taken me a little while to learn how to balance everything.  My husband has his own job, so we rely on each other a lot.  One of us is always stepping up and taking on more household work. Its usually him and I appreciate it so much!  I am getting better about setting aside time for our family and being intentional about it.  We also have a fantastic babysitter!
Future plans for your business?
We are really excited for what the second year will bring for 9Round Morton Ranch! Our focus right now is to continue providing an awesome kickboxing workout and helping our members crush their fitness goals!
Any special, sales, or deals our Katy Moms can look out for?
Our New Year's Special is going to be awesome!!  We will have registration specials that include heart rate monitors, gloves and handwraps for a very special price!!  We will be starting those specials at the end of next week!!  We ALWAYS offer a FREE first time workout so you can see just how the workout goes and meet our trainers!!

For more information on 9Round or to book your free introductory class, make sure to head over to their website! And follow along with them on Facebook and Instagram!