Wellness Wednesday with Elite Dermatology

The Houston area is home to one of the best medical communities in the world. We have the leading cancer centers in America, some of the most respected doctors in medicine, and are leading the country in research.

It just so happens that Katy is home to a lot of these phenomenal medical professionals. And to highlight some of the best, we've decided to introduce a series called Wellness Wednesday. This feature will aim to highlight the best medical professionals and their practice in ways our Meet A Mom and Small Business Saturday features cannot.


We'll feature their specialities, ask in-depth questions about how they're helping our community, and what they're passionate about.

It's only fitting that we kick off this series with a top Katy-area dermatologist, that we've worked with first-hand and absolutely adore. That's Connie Wang with Elite Dermatology. Connie is smart, kind, patient, and dang good at what she does.

From acne treatment, to skin cancer screening and prevention, to literally the best botox'in woman in town…Connie is the real deal. Even the staff at Elite are wonderful and make you feel so comfortable in situations you may feel most vulnerable. When anyone in the medical field can make you feel comforted and supported, that's a true gift. Elite Dermatology does all this and more.

To learn more about Connie and Elite Dermatology, check out our interview with this inspirational woman below!


Where are you from originally and how long have you lived in the Houston area?
I was born and spent the first 8 years of my life in China. I treasure my years and experiences there. I became very close to my grandparents during those years, and my time there really makes me appreciate the life that I have now. I've lived in Houston ever since we moved to America, except for my four years in Waco for college. I love it here!

When did you decide you wanted to be a Dermatologist?
I decided to be a doctor because my (now ex) boyfriend in high school wanted to be a doctor, haha. Isn't that nuts? Luckily, I realized that this was the perfect career for me once I discovered what it was all about. I chose dermatology as my specialty late in medical school, after doing a rotation and realizing it was the perfect combination of medicine and surgery.

Where did you go to medical school?
I attended Baylor College of Medicine in the Houston medical center. I would recommend all aspiring physicians to go there. It is truly the best!

What do you love about your specialty?
I love dermatology because its practice can be so versatile. You can tailor your practice to include a much or as little of children, adults, surgeries, cosmetics, and etc. I love that sometimes I will meet an entire family. Also, there is so much gratification in helping someone become a little more confident in their skin.

What made you decide to open your own practice as opposed to joining an already established one?
I had a lot of encouragement from my business partner and fiancé, Chris (also a dermatologist). We wanted to build a practice that we would happily send our own family and friends to. There are many wonderful practices in town! But in my mind, I think unless you are involved and running the place from top to bottom, you cannot truly guarantee the type of care a patient receives. We strive to maintain a very energetic, friendly, and positive team environment so that every patient has a great experience from the moment they enter the office.  

What did you do before you opened Elite Dermatology?
I worked briefly at another dermatology practice in town who were very wonderful and encouraging when I decided to leave and open Elite.

When did you open the door at Elite Dermatology?
We opened on January 17, 2018.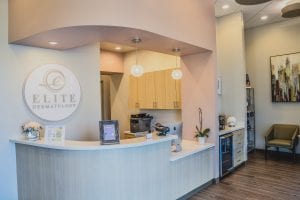 What was the inspiration behind starting your own practice?
Chris, my fiancé, is truly what made this practice possible. I'm pretty sure he was born to run his own corporation.  

Tell us more about Elite Dermatology, what makes Elite unique, and different from other practices?
As I mentioned, I think there are many great dermatology practices in town. We are, like some other practices in town, owned and managed by the physicians. I think this gives us an advantage because although we do care about the bottom line, we are physicians first and foremost. Our first priority in the patient, not cost or revenue.
Additionally, each person at Elite Dermatology from our receptionist to our medical assistants is positive, energetic, friendly, respectful, smart, and diligent. And, we love working together! I think patients really appreciate the happy environment.
Finally, we see a range of different conditions, from acne, to psoriasis, to pemphigus, to cyst removal, to Botox, to photo-facials. If you have a skin issue, it is likely that you will find an answer here.

Let's start with medical dermatology – what different conditions do you treat?
At Elite, in short, we treat all skin conditions and all skin types. To list a few: acne, eczema, psoriasis, warts, skin cancer, skin tags, cysts, rosacea, molluscum, vitiligo, hair loss, lipomas… etc.

What are you seeing the most of?
I see a lot of acne. It's expected since people of all ages can have acne. I always tell people this, because so many patients tell me "I shouldn't have this at my age!"

When should someone get a mole checked out by a dermatologist?
The ABCDE's of melanoma are commonly cited as reasons to get a mole checked out.
A – asymmetry
B – border irregularity (scalloped or jagged)
C – color variation (not all the same color)
D – diameter > 0.6 cm
E – evolving (getting larger or more raised rapidly)
These are not hard and fast rules but are all reasons to get moles checked out.
I think some things to add to this are if the mole is itchy, bleeding, not healing, or just doesn't look like your other moles.
If you're unsure if the mole is suspicious, that's what we're here for!

How important is protection from the sun and what do we need to do to make sure we're fully protected?
I cannot emphasize sun-protection enough. Your future-self will thank you for preventing skin cancer and also for preventing WRINKLES!
Most people do not use enough sunscreen and/or do not reapply often enough.
You should look for SPF 30 or above. You should apply a quarter size of sunscreen to cover your face and need to apply 1 shot-glass full of sunscreen to cover your entire body! You should also reapply every 2 hours while outdoors.

Most common misconception about treating acne and how can Elite Dermatology help?
I think the most common misconception of acne is that there is a one-step cure for it. The truth is, acne is very multifactorial. Everyone is different and there can be many contributors to your acne. The providers are Elite Dermatology will tailor your acne treatment to you, your lifestyle, your skin type.  

You also offer cosmetic procedures! Which services do you provide?
We offer a variety of cosmetic services including Botox, dermal fillers, vampire facials, PRP for hair loss, photofacials, chemical peels, microneedling, skin tightening, nonsurgical fat reduction (coolsculpting and kybella), and more! Our very experienced and friendly aesthetician, Lindsey provides free cosmetic consultations!

What is your personal favorite cosmetic procedure?
My personal favorite cosmetic procedure is Botox. I can't live without it! Minimal pain, amazing results! I have to mention a second – lip filler!

Advice for anyone wanting to start their own practice?
Two words: DO IT! Just make the leap! It is hard work, but it will be worth it!


You are getting married soon, congratulations! And you work with your fiancé! Advice on balancing being a business owner and working with your partner?
Thank you!!! We are still pretty new at this. We got engaged and started this business all in 2018, so I can't say I'm an expert.
Chris and I are pretty opposite in personality and in strengths. I think we complement each other well and are willing to step in to take care of things that the other struggles with. He is a big picture guy and I'm all about the details. I think it's important to recognize each other's strengths and weaknesses and be able to allow the other person to take the lead when appropriate.
As far as balance, for us, it's hard to ever turn work off, so we take a lot of vacations, so we can talk about work in beautiful far-away places!

What's your favorite part about practicing in the Katy community?
When I first started the practice, I would call Chris on the way home and tell him how much I love every patient that I meet. Nearly everyone I meet is welcoming, friendly, intelligent, and involved in their care. I also love that the community is so close knit. Local business owners support and encourage each other.  

Future plans for your practice?
We recently added Rachel Werner, a brilliant physician assistant to our team.
We don't have any plans to expand any more for a while. We will focus on providing quality care to patients in the Katy area!

Any special, sales, or deals our Katy Moms can look out for?
Our monthly specials can be found on our Instagram @elitedermatology.com
Currently we are offering $150 off lip filler for the month of February. We also have specials on Laser Genesis, Limelight IPL, and Pearl Fractional!

For more information on Elite Dermatology or to schedule an appointment, visit their website.