Small Business Saturday, Featuring Sharkey's Cut For Kids

The first ever Sharley's Cuts for Kids was founded in Connecticut by two parents who were tired of dragging their kids to salons catering mostly to grownups that made them dread going to get their hair cut.
So they set out to create a unique salon that caters to children of all ages- A place that is prompt for those on-the-go parents, fun and entertaining for their children, and reasonably priced for their wallets and in 2002 Sharkey's was born.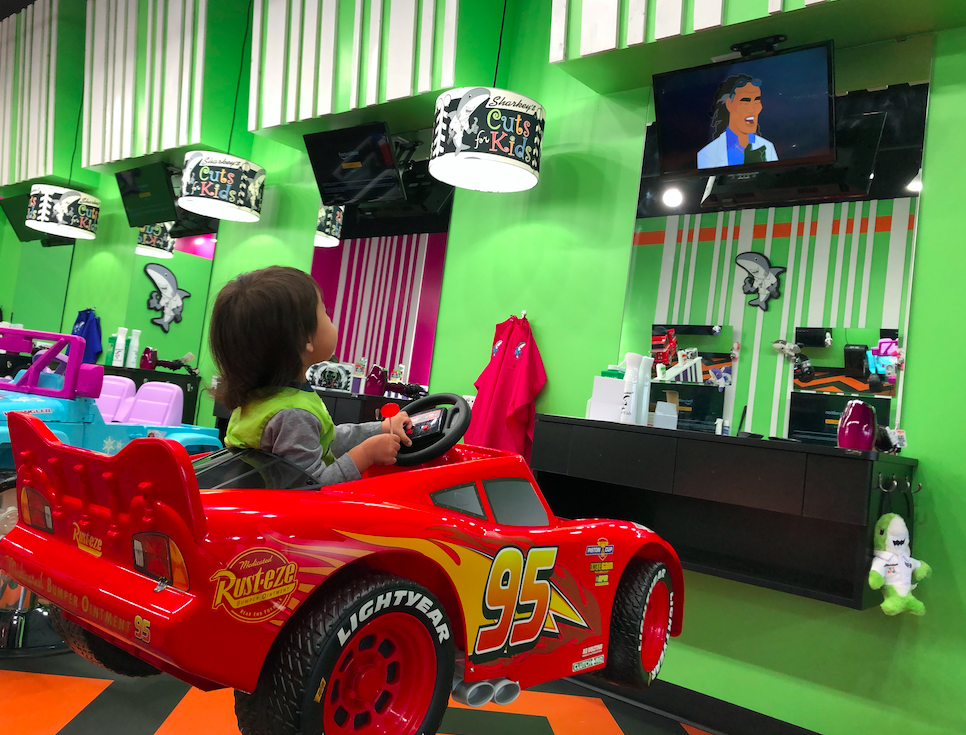 The first salon was a huge success, and in 2004 they opened their second and third stores. The requests for franchises started to accelerate within months, and they then knew the business model was successful. In 2005 the first Sharkey's franchise was sold in the US.

In just two short years 20 more salons opened across the US, Canada, Europe, and the Middle East with global commitments for over 200+ salons, making us the fastest growing children's hair salon franchise according to Franchise Times 2008 and voted #1 Kids Hair Salon Franchise – 2016, 2017, 2018!

Adam & Edna Rowland, owners of the new Katy location, get to be a part of this awesome company and bring this great concept to a community like Katy that truly needs it!


The Rowland's mission is to create a truly unique and fun and experience for kids, while also giving them stylish haircuts from experienced stylists.

We got to try to salon for ourselves recently and loved it! From the girly girl section, to the fun cars the boys can sit in, Sharkey's provides a warm, inviting environment where everyone feels comfortable. Mamas, you know how important this is for kids!

Your kiddo can watch TV listen to music, and of course relax in a fun chair while the stylist gets to work. And boy to they move fast! Your'e in and out in a flash and the customer service is top notch!

We also just adore these owners and can't help but love that they're a family run business, even bringing their kids to the salon so they can all be together while they work.

One of our favorite things about these business owners, is their commitment to the community and giving back. One way they do this is to give to local charities. For every haircut that is serviced, the child will have the opportunity to drop a token to one of four local charities. Every six months they count each token and make a monetary donation to each charity. As a kids hair salon, The Rowland's focus on charities that impact children directly.

We were so excited to chat with Edna and feature this business today! She sat down with us and gave us an awesome interview about their business, her favorite things about the Sharkey's concept, and future plans for their business! And yes, mamas, we even scored a discount for you!


Where are you from originally and how long have you lived in the Katy area?

Originally from a small ranch town 45 miles SW of San Antonio called Charlotte, TX. My family and I have been living in the Katy area for 7 1⁄2 years, and we absolutely love it. This is home for us.

You are a mama, too! How old are your kids and what are their names?

We have two sons. Adam Rowland Jr. who's 9, but goes by AJ, and Nicholas Rowand who is 2 1⁄2 years old.

What did you do before becoming a business owner?

I was a stay at home mom, and managed a mini motel we built in Charlotte, TX.

When did you open Sharkey's Cuts for Kids, and what was the inspiration behind opening a kid's salon in Katy?

Our grand opening was on March 2nd 2019. The inspiration was driven by the love of children. We wanted the opportunity to build a culture of kindness and patience that would benefit our people, community, and customers.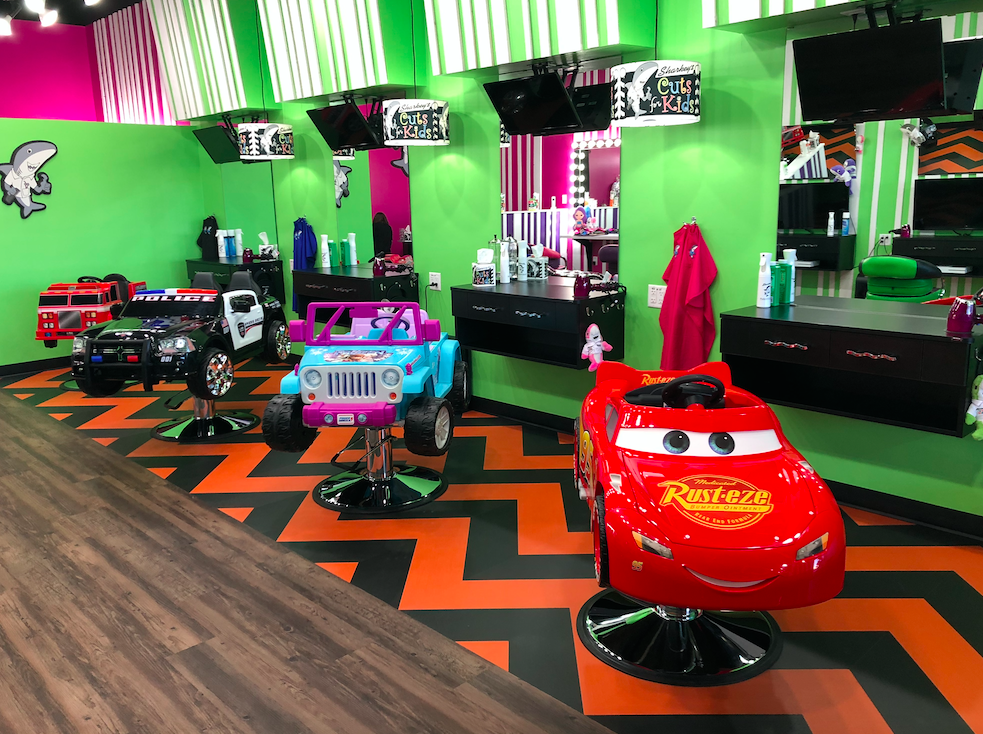 How has the Katy community impacted your business?

The local Katy community has embraced us firmly. We feel privileged that in such a short period of being open we had to hire 2 more hair stylists to keep up with demand. We as owners give all the credit to our staff who have embraced our culture of kindness and patience by sharing these values to our customers. Our customers have rewarded us with great reviews on FaceBook and Google.

What makes Sharkey's unique in the kid's hair cut industry?

Sharkey's atmosphere uniquely makes it fun and cool to get a haircut. We have kiddos that don't want to leave once their hair service is complete. Sharkey's is a place for kiddos to transition from small kid cars to more mature stations like xbox one and glamour stations as they get older. The cuts are also great!
What do you say to the Mama that has that child that is terrified to get their hair cut and cries the whole time?

We relish the opportunity to share our culture of kindness and patience for a child that has reservations in getting a haircut. We share with mama that everything truly is going to be ok. Our stylists are caring, as most of our stylists are parents themselves, and treat the child like they would want their child to be treated. Fortunately, Sharkey's has such a cool and fun atmosphere that most kiddos are distracted with cool cars and their favorite Netflix show to even notice the haircut.

How do y'all handle it?

Kindness and patience.

Do you cater to the special needs community?

A resounding YES! This is truly where our culture of kindness and patience shines. We've had parents with special needs post heart warming reviews sharing their experience of how kind our staff was with their child. All of our staff is trained in providing a comfortable and welcoming atmosphere for kiddos with special needs.

Tell us about partnering with local charities. Which charities and why is the important to you?

One of our top priorities as business owners is to give back to our community. One way is to give to local charities. For every haircut that is serviced the child will have the opportunity to drop a token to one of four local charities listed below. Every 6 months we will count each token and make a monetary donation to each charity. As a kids hair salon we focused on charities that impacted children directly as this is what we're passionate about. Camp Hope charity will indirectly affect children if a parent suffers from PTSD. We felt it was imperative to give back to the people that are making it possible for us to open a Sharkey's Cuts for Kids.
Caring 4 Katy – Vision – To bring our community together, to ensure no family feels alone during a child's illness or disability, while filling the families and children with hope about their future, and providing them assistance to endure their everyday needs. 2. Compassion Katy – Connects business, churches, local organizations, and our coalition partners to provide access to social services for under-resourced and economically challenged families. 3. Texana Children's Center for Autism – This clinic based program applies the principles of ABA to teach the children skills in the areas of appropriate behaviors, self-care, communication, social interaction, academics and more. 4. Camp Hope – Camp Hope provides interim housing for our wounded warriors, veterans, and their families suffering from combat related PTSD in a caring and positive environment.
You and your husband own Sharkey's together – Any advice on working with your spouse?

Since we both agreed on the same vision before we started to embark as business owners we quickly learned that listening and compromising made anything we tried to accomplish go faster and smoother. Listening and compromising works for us.
Best advice for someone wanting to take the leap of faith into entrepreneurship or wanting to open their own business?

Truly know why your doing the business. If the reasons wanting to embark into entrepreneurship goes beyond one's personal gains we feel you're on the right track. Surround yourself with people that truly want you to succeed, and don't be afraid to ask for help.
Who inspires you most in business and who inspires you most in motherhood?

The hard work that my husband puts into his full time job, and with Sharkey's shows me what it really takes to be successful. My husband has the ability to bring a team together built on trust and honesty. My mother inspires me in motherhood because she always put me and my siblings first before and of her needs and wants. She didn't have much education so she always had hard working jobs to help provide for our family. Her devotion to her children inspires me on the priority of family first.

When things get hard, what's the one thing you tell yourself to keep going when running this business?

Don't lose faith.

How do you balance being a business owner, wife, and mama?

Take a deep breath and go with the flow. Being flexible is key, and understanding that change is inevitable. Luckily I don't have to do it by myself. My husband and great staff helps me to maintain a sense of composure.

Do you experience the dreaded 'mom guilt' and if so, how do you deal with?

Fortunately our business model allows us to bring our kiddos to Sharkey's, and they love to go. We also have an empowered staff that's been highly trained and we don't have to be at the store everyday. I feel lucky to have this balance that keeps my boys a top priority.

Future plans for your business?

Yes, we now offer Glamour Parties. Each girl will be pampered with a pretty hairstyle, make-up application, and mini-cure. When they are all ready to go, they can choose from our array of beautiful dress up clothes and put on a fashion show, where we will snap their picture!

Any special, sales, or deals our Katy Moms can look out for?

Yes! At check-in any KMN follower just has to mention that they heard about Sharkey's from KMN and they will receive $3.00 off a full service haircut. No coupons required.

For more information be sure to visit their Website & Social Media Channels!

Website: https://sharkeyscutsforkids.com/locations/katy/texas-katy/
Facebook: @sharkeyscutsforkidskaty
Instagram: @sharkeyscutsforkidskaty
Twitter: @sharkeyskaty