Small Business Saturday Featuring the New Cook N Grow & Owner Gina Carrera

It all started with a love for being in the kitchen and wanting to share that love with others.
Owner Gina of the new Cook N Grow in Katy, has a passion for cooking! A world class cooking instructor, Gina's love of all things food and wine began at a young age, surrounded by the loving embrace of her family on their vineyard. Jealous yet? Just wait. Gina took a break from cooking to become an Architect!


Yes, you read that right. Gina spent years working in Architecture and she was involved with several projects like overseeing production of a hospital and a children's museum in Zacatecas, Mexico before relocating to Texas. Life took her all over the globe, giving her the opportunity to immerse herself in other culinary cultures.
How does this benefit you? Well, she's a good sharer, and loves teaching others the lessons she's learned in kitchens across the world. In starting Cook n Grow, Gina created her dream job: teaching cooking lessons in a social scenario, giving people from all walks of life the opportunity to learn to cook new foods while making new friends over a glass (or three) of wine. Except at the children's classes. No wine for the wee ones.
We sat down with this awesome mama to learn more about her business that we cannot wait to try out ourselves! And yes, we got you mamas some awesome discounts!


Where are you originally from and how long have you lived in Katy?

I was born and raised in Central Mexico but moved to Texas 15 years ago.  We haven't moved to Katy yet, but that's the plan in the near future, I love Katy!

Are you a mama too? How old are your kids and what are their names?

Yes! I have 2 boys, Lorenzo just turned 6 and Sebastian will be 8 next month.

What did you do before becoming a business owner?

I am an architect so I worked in several Building and Design firms for over a decade, then became a General Contractor myself.  When we got pregnant with our first baby, I decided to retire and become a full time stay at home mama, oh well… I didn't stay at "home" for long! in that time we moved back and forth a few times  (Europe, New Zealand and the States).
When did you open Cook N Grow and what was the inspiration behind opening a Cooking School?

I first opened Cook n Grow in 2014 in College Station and opened our second location in Katy last month.  My inspiration is a mix of my passion for cooking, my family's background in the food industry and teaching kids where food really comes from, but most importantly, my personality… I love meeting new people, socializing and learning from other cultures! so for me, so when I thought of combining entertaining with food it just felt right!

Have you always had a love for cooking? When did that start for you?

I've been cooking my whole life, by age 9 I had my own li'l home bakery "business".  So following my passion for cooking, I discovered that I enjoyed working with kids, so I started teaching kids how to cook way before Cook n Grow was born.  Almost 8 years of cooking lessons later I put my dream in the back burner for a few years, I always knew this is what I wanted to do when I grew up.
How has the Katy Community impacted your business?

Well, it may be a bit premature to say yet but it's been great! since we opened, everyone has been so welcoming and supportive, the kiddos are wonderful and the mamas are super sweet and very helpful! I love the Community feel here and I can't wait to meet everyone else!

What services do you offer? Do you have classes for kids and adults?

We have something for everybody! For kids we offer:
Weekly classes during the School year, Holiday Workshops, Birthday Parties, Spring Break and Summer Camps, Cooking Field trips, Mommy/Daddy n Me, Spanish Classes for Spanish Immersion kids, Private lessons, Special needs, Boy and Girl Scouts Cooking Badges and more! We also offer mobile classes and events.

And for Adults we focus on BYOB Cooking Experiences, so date nights, Private Cooking Parties and of course ladies night out! Also, a big part of what we do for adults are large Corporate Events, Team Buildings are our jam!

You are offering Camps all summer! Give us all the deets!

We are super excited about our first Summer Camp at our Katy location!  We have Camps for toddlers (3-5), kids (6-11) and teens (12-18). They cook something different every day and enjoy their creations at the end of class.  
Like you said, we offer camps all Summer, with different morning (9:00AM-12:00PM) and afternoon (1:00-4:00PM) sessions , there's no registration fee and you can register for a full camp or as many days you want to.  We also offer early drop off and late pick up for the convenience of parents. Kids registered for both sessions (AM and PM) get to stay for lunch break from 12:00-1:00PM at NO extra charge. We have had such a wonderful response from the Community, we encourage parents to register early to secure their spot.  Cooking with kids is a big deal and we've been doing it for years.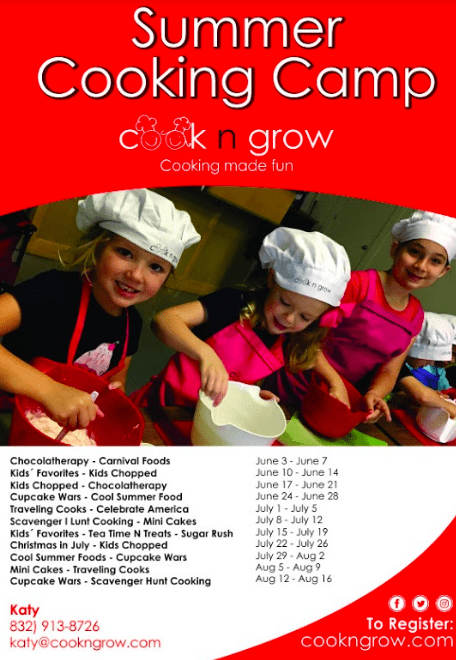 Best advice for someone wanting to take the leap of faith into entrepreneurship or wanting to open their own business?

I always say "If you don't risk an egg, you don't win a chicken!" You know when it's your calling, you have a gift, it makes you happy but most importantly doesn't feel like work!

Who inspires you most in business and who inspires you most in motherhood?

In Business definitely my brother Sergio, he taught me it's all about always having a positive attitude and always be honest, always be who you truly are.
In motherhood my main inspiration besides my mom was my grandma.  She and my Grandpa had 21 kids, yes you read that right…My Grandma gave birth to 21 babies. She was an amazing woman but just the thought of her giving birth so many times with no epidural makes me feel strong!

When things get hard, what's the one thing you tell yourself to keep going when running this business?

I literally close my eyes and say the hardest word to hear while you are worried: "Relax!  I trust you God, I'm grateful for all I have and don't deserve". I feel like if I worry about it, it's like I don't trust him enough.  

How do you balance being a business owner, wife and mama?

I think as long as you have your priorities clear, you'd be ok, balance is hard to measure, but no matter how crazy life gets, we can always make time for everything!
My family is at the very top of my list and my hubby and share the same life project! We try to always make time for us and the kids. I am blessed to have a big and super supportive family! So in  the middle of a random busy week day, my parents and my siblings are always a phone call away ready to go pick up the boys from school if they have a Dentist appointment while mama is cooking with Preschoolers and Daddy is in Japan. But every day, when I get home after work they have my undivided attention, and we make it all about us (including our 2 giant dogs).  I get home and we all share time while we cook and eat. After the boys are asleep I work some more, most of my work days definitely don't end at 5, but I enjoy every minute of them!

Do you experience the dreaded "mom guilt" if so, how do you deal?

Although sometimes I miss all the flexibility and the traveling from my non entrepreneur life, my kids are awesome and happy so I guess I don't feel the guilt

Future plans for your business?

Growing our Audience, get both our kids and adults classes full! Then opening a second location in Katy next year!

Any specials, sales or deals our Katy moms can look out for?

-For the weekly classes, get $20 OFF your Membership for each friend who registers for the weekly classes (monthly)
-For Birthday Parties: 10% OFF any Birthday Party booked IN APRIL (the party doesn't need to be booked for April)
-For Adults: Bring 4 friends to one of our BYOB Classes and your ticket is free!


For more info on Cook N Grow, stop by their website and follow them on social media!

Instagram: https://www.instagram.com/cook_n_grow_katy/
Facebook: https://www.facebook.com/CookNGrow.Katy/
Twitter: https://twitter.com/Cookngrow_katy