Meet A Mom: Patty Hurtado, Realtor & Mama 

One of our favorite things about this community is meeting and connecting with other moms. One of the biggest ways we do this is on social media and through our Mama Meet Ups and we LOVE getting to know all the mamas of Katy. Over the last year of Katy Moms Network, we've met some of the best moms who've become dear friends to us!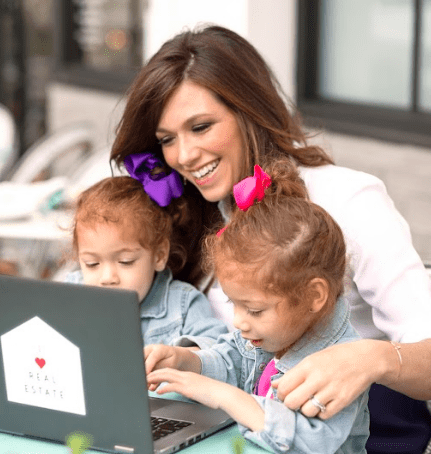 One of these mamas, who connected with us early on coming to our meet ups, was Patty Hurtado! She has the cutest, sweetest identical twin girls who love to keep her on her toes! Patty has always been one of our biggest supporters and cheerleaders and we've loved getting to do the same for her, watching her successful career in real estate.
If you're looking for a realtor who truly knows Houston, specifically Katy, and one who treats you like a friend, Patty's your girl. She believes in the 'it takes a village' mentality and loves to support families in finding their perfect home. Her heart for helping and passion for homes, led her to start Perfect Homes Houston.
Perfect Homes Houston is a Mother-Daughter Team of realtors dedicated to helping families find a place to call home. From apartments to dream homes, Patty can help!
If you came to our Mama's Night Out event last Wednesday, you likely saw her beautiful smiling face pouring champagne for moms and helping everyone to have a great time! Her light shines bright and anyone who's worked with her will tell you the same.
We got to sit down with this powerhouse mama, who we truly consider a dear friend, to talk all things mom life, all things Katy, and got to learn more about how she balances her joy of being a mama with her passion for real estate!


Where are you from originally and how long have you lived in Katy?

I was born and raised in a small border town called Laredo. It is a border town with Nuevo Laredo, Mexico. Volleyball and academics led me to San Antonio for a few years and then I decided to make the leap to "be an adult" in Houston. I have now been living in Houston for about 14 years and Katy 10!

How old are your kiddos and what are their names?

I have two feisty red headed identical twin girls who are almost 3. Their names are Sofia & Daniela, but we call them Sofi & Dani for short.

Greatest gift about being a mama?

Oh man, just one? I think just the privilege itself of being a Mom is a gift itself.  I know that may sound cheesy, but for me it's true. We prayed so hard for these babies for so many years that just being able to have the opportunity to have them and be their mom is enough.  

One thing people would be surprised to know about you…

Hmmm, let's see. Well, most people are often surprised when I start speaking Spanish. I think the freckles and light skin throw them off. Don't let the freckles fool you, ha! Both my parents were born in Mexico and Spanish was just a must in our family. Hablo muy bien el Espanol!
Favorite local things to do in Katy?

We love everything about Katy! But if I had to pick one, it would be the many outdoor spots to hang with kiddos and pets. We love spending time outdoors, as you may have noticed if you follow me on social media and our park highlight videos. Parks, walking trails, lakes, patios, we love it all!

You lived in The Heights prior to kiddos, what's your favorite thing about raising a family in Katy?

Although Katy has grown so much in the short time we have been here, I still feel like it's a big city with a small town feel. The community vibe is strong and the type of home you can purchase out here compared to "in the city" is unbeatable! Not to mention our schools are top rated. I mean, how can you go wrong, right!?

Do you have a favorite family friendly restaurant in the area?

Anything with a patio is where you can find us! If I had to pick a favorite, I think it would be Lupe Tortilla with their awesome patio, fajitas, margaritas and sand/play area. The girls love it! Although, then there is sand for days in the car.

What is your go-to activity for yourself for pampering or for fun?

My life has been very "go-go" for the last few years and this is definitely an area I am working on. Right now, I guess we can call margaritas on the patio at a local restaurant while the kids play my "me time", lol!  Back in the day, yoga was a must along with a nice mani/pedi with a firm massage. Working on bringing that back in my life.

What's your best advice for new or expecting mothers?

That It's ok to ask for help. It's ok to not have all the answers. And whatever you are doing it is good enough! You are enough! Cherish the moments, the good, the bad, the nasty, because it will all go by so quickly.

Best mom hack that makes life easier?

Teaching children routines! Might not seem like a hack but dedicating time early on to establish routines, I feel is a MUST! It definitely helps lessen the amount of time you spend on bedtime, toy cleaning, house cleaning, etc. The kiddos can make great helpers and it teaches them so many life lessons too.

Product wise, I absolutely love Crayola's mess free Color Wonder markers and coloring sheets! I can easily take them with me to restaurants or when the girls have to go with me on appointments and it keeps them quiet and busy. Expressing their creative sides! Even though my one daughter, Dani, only colors everything pink! Because EVERYTHING must be pink for that girl!!

Least favorite mom job? (i.e. bath time, bed time, making lunches?)

Changing diapers for sure! Double time! This momma desperately needs to get her act together and finish potty training these twinkies! LOL

You're a local relator, tell us all about your career in real estate and what makes you unique in the space!

That's right! I am a local area Realtor and I consider myself an expert in the areas of Katy and into the Memorial/Spring Branch. My company name is Perfect Homes Houston – Keller Williams Memorial. I started this business several years ago alongside my mom. She recently moved to San Antonio and left me flying solo here in Katy. But that's ok, I know she'll move back soon enough. She can't stay away from all these grandbabies for too long!

What makes me unique? Well, I like to consider myself a people person. I like to really get to know people and find out what's important to them. Not in an "in your face" kind of way. More like a childhood friend kind of way. I want you to enjoy your experience from start to finish. Even when there are road bumps. I want you to feel comfortable knowing that I truly have your best interest at heart and that I will be with you the whole way through. That I am a fighter, a problem solver and one heck of a negotiator!

On the selling side of things, my job is not just putting a sign on your yard and waiting for an offer to come in. I believe in a hands on approach to selling. That details matter. That I will walk through your home with you and help you make it shine. Shine how? Through staging, through amazing photos, shoot, I will even clean a mirror or two if need be to make sure everything is just right. For buyers to walk into your space and instantly feel like it could be there home.

This profession is not for the weak at heart. There is a lot of stress, a lot of wine, and a lot of late nights. But the joy I get knowing how thrilled my clients are about starting a new chapter in a new home is enough to keep me going.


For anyone looking for their dream home to raise a family, what are 3 reasons you think they should look in Katy?

I try to move all my clients to Katy, LOL! I just love it that much. But if I had to pick 3 reasons they should consider Katy (depending on what their needs are of course)
Beauty – it may sound silly but Katy has some of the most beautiful neighborhoods and parks! If you love the outdoors and lake views in your backyard, then consider Katy!

Great homes at a great values! – a 300k dollar home in Katy would cost you 600k+ in the city! If you don't mind a bit of a drive, Katy could be a great option!

Quick access to major commuter highways- the majority of our population in Katy commutes to work. Katy is a great option because we have so many highways only minutes away. We even have metro bus spots for those not wanting to take their own vehicle into work!
Do you think being a mama has made you a better realtor, specifically for families?

Absolutely! Being a mom has definitely taught me how to have extra patience. Finding ways to solve problems on the spot before they become a major meltdown is also something I've picked up along the way. One thing, for instance, that I find has worked really well with my girls, is to verbalize expectations. For example, I might say to them, "in a few minutes we are cleaning up and then we will eat dinner." I find it helps them with transitions and sometimes avoids issues.  How does this relate to real estate? Well, kind of take that same approach when guiding families through purchasing or selling a home. Listening to my client's needs and wants and setting up expectations of what the transaction might look like, helps them be prepared for unexpected "issues". If an issue does present itself, then you better believe I will do my best to find a solution! Before anyone has a chance to have a meltdown, ha!

How has the Katy community been instrumental in getting you to where you are now?

This year specifically I made it a goal to dedicate more time to being "social" specifically on social media. I never in a million years, could imagine the amount of support and friendships that I have made through it. I have connected with so many local Katy moms and mompreneurs and have felt a huge bubble of love and support amongst everyone. Women just wanting to be the best moms and bosses we can be. I mean, I found you guys through social media and I've had a blast getting to know you and being involved in such a beautiful mom community.

Best advice moms who experience the inevitable and dreaded MOM GUILT?

Easier said than done, but try to cut yourself some slack! The sheer fact that you even are feeling guilty means you have your kiddos best interest at heart. Which in my eyes, makes you a dang good mom! Besides, no one is perfect! You are a great mom! Don't let anyone try to convince you otherwise.

Who has most influenced you to be the mom you are today?

My mom for sure! Along with a lot of advice from my girlfriends. But mom definitely number one!
The things I look back, that she made me do as a kid that I thought were just insane, are the things I am most grateful for now. That she taught me to be a strong independent woman who knows the importance of sacrifice, family and compassion for others. I am the oldest of four, and I tell her often, that I have no idea how she did it! Four kids before she was 30!!!


When parenting gets hard, what's something you tell yourself that gets you through?

First, I pour myself a glass of wine! Then I remind myself how hard I prayed for these babies and that this is just a tiny moment in time that I will never get back. To take a deep breath and try and be just a tad more patient. That there is soooo much more good, than there is "yank my hair out crazy" and I'll take it.

Name one thing you hope your kids look back and remember about their childhood and you as their mama?

That their momma tried! Tried to be present. Tried to be involved. Tried to be attentive. Tried to be the best mom and roll model I could be. Tried to make them feel loved and special in some way every single day.

What would you tell the old "You" before you had kids?

Girl, you don't know what tired is!

What does community in motherhood mean to you?

It means, support. It means, acceptance. It means, come as you are. It means, we will get through this together. Not to mention all the amazing playdates!


For more information on Patty and Perfect Homes Houston, be sure to follow along on social and visit their website!


Website: https://www.perfecthomeshouston.com/
Facebook: https://www.facebook.com/perfecthomeshouston/?ref=bookmarks
Instagram: https://www.instagram.com/pattyhurtadorealtor/