Meet A Mom: Aimee, Founder & Owner of Blockhouse Coffee & Kitchen

If you're ever looking for a little piece of heaven, sitting under beautiful live oak trees, in the heart of a small town that's all about community, then look no further than Blockhouse Coffee & Kitchen in Richmond.
Located at Jax & 7th in Historic Richmond, Texas, Blockhouse is a specialty coffee shop featuring a rotating selection of Houston's best local roasters and a yummy breakfast and lunch menu! Pro-tip: order The Elvis, you won't be sorry.
We met up with some mama friends at Blockhouse a few weeks ago and it was immediately clear why this place is so special.  The indoor space is light, bright, yet cozy enough to encourage connection. They're probably most known for their big backyard where kids can play in the treehouse while mama enjoys a warm latte under the sprawling shade of giant, green trees. It's the perfect space for gathering. We're clearly hooked!


Not only do we absolutely love this space, but we love the owner's commitment to community. From the space itself to various markets they host featuring goods from local vendors, it's clear Blockhouse is more than a coffee shop. They are truly engrained in the Richmond community.
Blockhouse was born out of a desire to bring people together and create something valuable and we're so thrilled to feature mama and Co-Owner behind this little slice of heaven, Aimee Frederick!
Aimee and her husband Cody opened Blockhouse in March of 2017 and it's been a space locals can enjoy ever since. Natives of South Louisiana, Aimee and Cody met in 2005 while working for a popular restaurant concept in Baton Rouge. Given the opportunity to grow the brand by opening their own location, the couple moved to Fort Bend in 2007. They married in 2009 and started a family a year later. Together, with their combined 25 years in the restaurant industry and deep network of skilled colleagues, they decided to create something new.
That little something new was obviously Blockhouse and the couple have their sights set on Katy, opening a second location very soon.
We got to chat with Aimee a bit more about her beloved business, how she balances being a business owner with her joy of being a mom, and what makes Blockhouse so special. (Spoiler alert: one visit and you'll likely see why!)


Where are you from originally and how long have you lived in the Katy area?

My husband and I are originally from South Louisiana. I grew up in the Baton Rouge area and he grew up near Lafayette. We met working for a popular restaurant concept in Baton Rouge and moved to Sugar Land in 2007 to open up our own location of that brand. Since then, we've lived in Sugar Land, Houston, Missouri City and most recently, Richmond.

How many kiddos do you have and how old are they?


We have one eight year old little girl and a baby boy on the way, due in August!

One thing people would be surprised to know about you…

I love weightlifting (the type you see in the Olympics, not powerlifting) and in the past, have competed in 6 meets, including one American Open. Perhaps when I'm not opening coffee shops and having more babies, I'll get back to training!!

Favorite local things to do in the Katy/Richmond area?

It sounds cheesy, but I adore hanging with my Richmond crew on our little block at Jax & 7th!

What's your favorite thing about raising a family in the Katy area?


The sense of community. It wasn't until my husband and I bought property in Richmond (8 years after we moved to TX), did I finally feel like I found my tribe. It truly feels like home here!


Do you have a favorite family friendly restaurant in the area?

We're actually pretty boring and enjoy cooking meals from scratch at home over eating out. When we do go out, we find ourselves searching for the best burger in town. So far, our favorites are Guru Burger in Sugar Land, and the Cranky Burger or Patty Melt from local Chef, Chris Zettlemoyer's food truck, Renegade Kitchen & Catering.

What is your go-to activity for yourself for pampering or for fun?

I love a good body massage, and my friend, holistic health coach and LMT, Brandie Mitchell is the best!

Funniest shortcut/routine for helping you through parenthood?

I'm not sure I have any shortcuts, persay! It's bittersweet, but watching my eight year old go from completely dependent on me to being somewhat independent (washing her own hair, making her own bed, preparing her own snacks, practicing her piano without being told, etc) have been some of the most impressive shortcuts – if you can call it that. To all the Moms in the throes of the 2's, 3's and 4's, remember, one day they won't need you!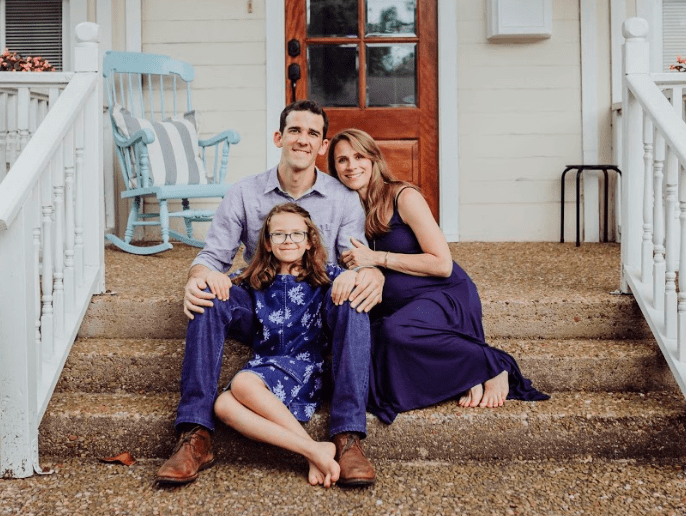 Best mom hack that makes life easier?

Waking up before dawn to a quiet house so I can check and respond to email, write social media posts, plan my calendar, read, and drink my coffee in peace is probably the best routine hack I've ever tried. Not have little eyes staring over my shoulder at my screen, or asking me questions while I'm trying to type is priceless!

You are the co-owner/co-founder of Blockhouse Coffee & Kitchen in Richmond (which we LOVE!), tell us the inspiration behind starting this business and what makes Blockhouse different from other coffee shops?

Thank you for the love!! Yes, so the inspiration was a pretty selfish one, actually. When my daughter was just beginning pre-school, I noticed her school day was fairly short and there wasn't enough time to go home between drop-off and pick-up. I longed for that "third place" to hang out – a great independent coffee shop or book store, or a beautiful, shady park space to sit and enjoy for an hour or two. We were in Sugar Land/Missouri City at the time, and in the absence of the places I just described, I found myself wandering the aisles at Whole Foods. A lot. My husband and I were already restaurant industry veterans, avid travelers and lovers of coffee house culture, so in 2014 we began conversations about opening up our own place to satisfy the void in the suburban market.



Many many things set us apart from other shops, but first and foremost we are a specialty coffee house with a full breakfast and lunch menu, hence our name, "Coffee & Kitchen." We source our beans from the region's highest quality roasters, make our flavored syrups from scratch, and serve a wide variety of house-made baked goods, breakfast and lunch, seven days a week.


The second most obvious differentiator for us is our focus on community. Our tagline is, "More than a coffee shop / A café for community," and everyday we try to steer our ship in that direction. We seek out and curate goods from our region's best producers and artisans. You can find these products on our store shelves, our menu and as vendors at special events throughout the year. We collaborate with local artists to create original art you'll find on our Historic Richmond walking map, stamps on our to-go cups, t-shirts, and more.


And third, we've intentionally designed our café to be welcoming and friendly to families. Who says the kids can't have fun while Mom sips her latte?! We have a designated space inside our tiny café for children, complete with a chalkboard, blocks, books and colored pencils. We have a front patio for soaking up the sun when the weather's nice and a huge, shady backyard with a kid's Tree Fort for when the little ones need to stretch their legs.
We are proud of all these components of our shop, the coffee, the community and the space itself and feel all three set us apart from some of the better-known competition.

When did you open the doors to Blockhouse Coffee & Kitchen?

We opened Blockhouse on March 20, 2017.

Future plans for Blockhouse Coffee & Kitchen (we heard you are coming to Katy!)?

Future plans involve continuing to develop our half a block at Jax & 7th in Historic Richmond. We own the building where Blockhouse lives and will be adding our 4th and final tenant to the building this summer. We are also fortunate enough to own the backyard behind us and will continue improving that property as time and budget allows. And, yes, you're correct, we are working on opening a second Blockhouse location in Katy later this year!


Best advice for working moms who experience the inevitable and dreaded MOM GUILT?

We all struggle with this, me especially, but do your best to carve out time to get work done when your kiddos can't see you. Most of my Mom Guilt revolves around trying to work on my phone or my computer while my daughter is also competing for my attention. I work from home, so waking up early and knocking out most of that work before she's up has been a huge step towards less (although, it's still there) Mom Guilt!

Who has most influenced you to be the mom you are today?

First of all, definitely my own Mom. Growing up, she was an incredible protector, advocate and cheerleader for me, and I owe my strong sense of confidence and self-reliability to her. I also look up to friends who are raising their kids in ways I admire, like one of my besties and fellow mom-entrepreneurs in Southern Oregon, Betsy Tomasello.

When parenting gets hard, what's something you tell yourself that gets you through?

Oh my, it's so cliché, but I try to remind myself my daughter will only be this age for such a short time! Soon, I'll have a teenager and thinking about adolescence, puberty and the teen years rocks my world more than anything I am encountering right now. Moms of teens, I'm open to your advice!! ☺

What would you tell the old "You" before you had kids?

I was one of those girls who never really imagined myself becoming a Mom and would have told you in my twenties I wasn't sure I wanted children. So, looking back I would tell my "pre-kid" self, don't be so scared. Be open to the joys of parenthood and know that while, yes, kids do change you, it is possible those changes actually make you a better person overall – less selfish, more creative, more resilient, and frankly, more fulfilled.

For more information on Blockhouse Coffee & Kitchen, be sure to follow along with them on social media and visit their website!


Blockhouse Coffee & Kitchen – website, instagram, facebook