Meet A Mom: Emily Scherer, Owner of The Guild in Richmond, TX


Last week we featured a Richmond mama, Aimee, owner of Blockhouse Coffee. So this week we thought it only seemed fitting to feature her neighbor at Jax and 7th, owner of The Guild, Emily Scherer!
Emily and Aimee have neighboring businesses in downtown Richmond and are so stinkin' fun to watch! These two are a hoot and we love watching their weekly coffee chats on Instagram! Emily and Aimee's friendship reminds us a lot of our own and it's inspiring to watch all their doing in the community, specially to help small businesses and local artists. It's clear these two love 'The Bend' as they call it and they've made us fall in love, too!

Emily is an artist herself, always having a love for calligraphy and watercolor paintings and even in adulthood finds such a passion for learning new skills. She was a stay-at-home mama who birthed The Guild out of her need for a some SELF CARE. Some mama love, if you will.
Shortly after her daughter was born, Emily had a revelation that many of us have: she never did a thing for herself anymore. Days filled with all things babies, she wanted to make room for things that made her..her!
And although motherhood has always been one of her greatest joys, she wanted to let little pieces of Emily shine through again- things that made Emily happy.
So The Guild was born out of her dream to create a space where people could learn and create.
Located in Historic Downtown Richmond, The Guild is a unique and intimate venue offering 1100 square feet of space perfect for small gatherings, photo shoots, dinner parties, pop up events, as well as a space where artists can come create and teach.
Emily's 'if you can dream it, we can do it' mentality has made room for some of the most unique gatherings in the space and by the looks of it, she's just getting started.
Just a peak inside the window last time we were over there, and you can tell the space is something special. And we got to take a little peak inside Emily's heart by interviewing her for today's Meet A Mom feature! We hope you enjoy her interview as much as we did!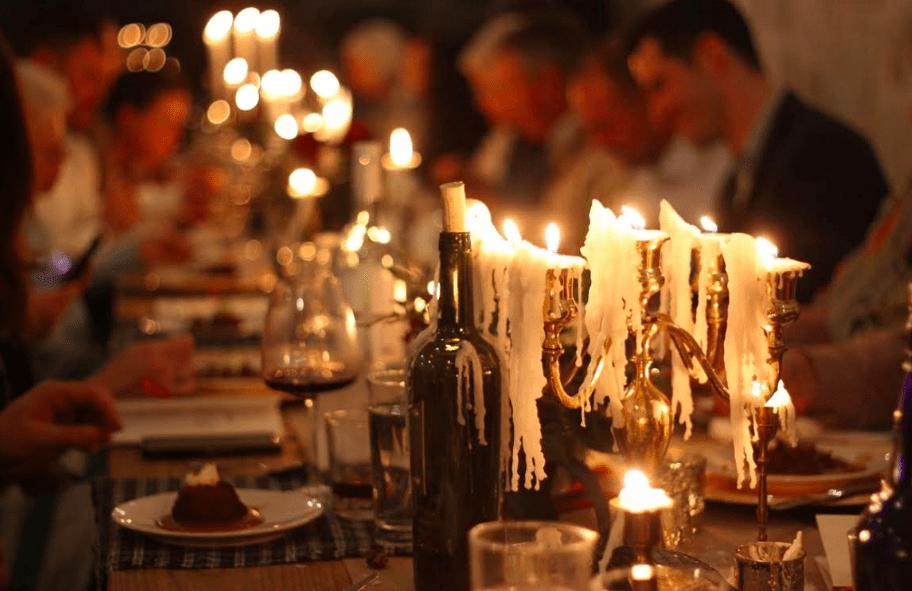 Where are you from originally and how long have you lived in Richmond?

I was born and raised in Richmond, and my 30+ years I have watched the progress in our neck of the woods. I married a local too— who has deeper roots in the town… safe to say we are here for a bit!

You're a mama! How many kiddos do you have and how old are they?

I am a mother of 2, Owen Paul is 7 and Sophia Marie is 4 (and 1/2…because at that age it matters!)
What's your favorite thing about raising a family in the Richmond area?

We are so close to our families, both my parents and my in laws are a few short minutes away. The school I send my children to I worked a summer job at when I was in high school. It has that small town charm, and yes, between my husband and me we seem to know almost everyone. There is usually only 1-2 degrees of separation. I subscribe to the "It takes a village" concept for parenting and knowing people for 20-30 years in the community makes it really easy to lean in to. We grew up here so all the things we did as kids are typically still around and being able to share them with my littles is pretty special.


Greatest gift about about being a mom?

Is there anything better than those drowsy kid snuggles?! Watching them grow into themselves, the constant learning and sharing of experiences and helping shape them is pretty amazing.
Least favorite mom job? (i.e. packing lunches, dishes, bath time, etc.)

Woof. Feeding them. We are constantly reading what to give our kids and what is healthy and the battles over mealtime are exhausting. Plus they are always hungry… probably because they refuse to eat things that will actually fill them up.

One thing people would be surprised to know about you…

That I spent time in the Middle East as a child. I still speak a little Arabic, and when my parents got a job in Turkey it was helpful in picking up Turkish phrases.

Favorite local things to do in Katy/Richmond/Fulshear? (With kiddos or just for mom!)

As a mom— there are so many options to do things with the kids. Waterpark, nature parks, museums that don't involve going inside the loop, green spaces being built into places…and of course, the backyard of Jax and 7th with snocones! As a wife/adult- Braman, great restaurants, great boutique shopping.


Do you have a favorite family friendly restaurant in the area?

My kids LOVE La Cocina. When we are looking for an easy please everyone at the table we head to Ninja, but when the weather is nice Grimaldi's at La Centerra and the kids get to chase the ducks and hop on rocks while mom and dad have a glass of wine.


We're big on self-care for moms, as hard as it is to find the time, what's something you do just for yourself?

The Guild was birthed out of self care. Shortly after my daughter was born I realized I did nothing for myself anymore. All I did was change diapers and survive with 2 littles. I told my husband that I needed time everyday to figure out what made me (Emily the adult human not the mom) happy. I threw myself into art. I picked up calligraphy and watercolors and realized that so much healing and growth can come from learning new skills. I grew up in a house that every summer we made jams and jellies and put up homemade pickles. Nobody I knew did these things anymore. I wanted to create a space where people could come and learn things that they could create. Not just a picture, but the skill behind it. Something they could maybe set up on the dining room table and work on in those moments of still in the house.

Funniest shortcut/routine for helping you through parenthood?

Best mom hack that makes your life easier? I have a tag-team family. We have kids that complement each other and so we kid swap and meal prep together. Once a month we cook for a whole day and freeze everything. We end up with enough food to stock the freezer with dinners for a month all while the kids stay out of our hair.

Tell us about your business, The Guild! When did you open your doors and what was the inspiration behind it?

The Guild is a part of great big dream. I realized that I wanted to have a space where people could come together and learn about something they never knew before. In the big giant concept that meant having alpacas and fiber studios as well as a potager garden and canning workshops. At The Guild it means creating a space to learn a skill and learn from the other artists around you. I am a firm believer that everyone is an artist. Everyone is a creative. Maybe they haven't found their medium yet, but self expression through art is an amazing outlet to have. The farm to table dinners are incredibly important to me too, everything happens at a kitchen table. We need more people breaking bread together and sharing a good meal with strangers is incredibly powerful. You come away with new knowledge and a connection with someone in the community.

What are some of your proudest moments with your business or some of the best events you've hosted there?

Each workshop we have where you watch the switch flip for someone, you watch them fall in love with the medium in which they are working with is amazing. We've done some great events with nonprofits and being able to give them a platform is pretty rewarding.

Have you always had an entrepreneur spirit?

I always thought I would be a stay at home mom, but I am just too busy thinking up things that I want to see in my community. So I suppose yes, but I never gave it a label.

What did you do before opening The Guild?

I was a stay at home mom and was involved with the Richmond State Supported Living Center on which I sit on the board.

Best advice for moms who experience the inevitable and dreaded MOM GUILT?

Cut yourself some slack. This is hard. At the end of the day as long as they know they are truly loved you have nailed it. Those quiet snuggles and support outweigh the negative moments 100 to 1.

How important is it for you to have a passion outside of being a mother?

Incredibly! How can we grow as people and mothers if we don't continue to fill our cups. How can we raise children if we limit our life experiences? If we limit our growth and education? Have a passion. Have 20. Continue to grow and include your kids in those passions where you can.

Who has most influenced you to be the mom you are today?

My mom. I know we all say that but she really parents with a lot of grace. And I suppose Auntie Mame. The Rosalind Russell film is a favorite of mine and has shaped my outlook on life. I never want to have a child of mine being accused of having "braces on his brain" but rather one who looks at life as banquet.

When parenting gets hard, what's something you tell yourself that gets you through?

We can do hard things. I am so lucky to have a partner that is in the trenches with me. At the end of the day we hug our kids and hold them tight.

Name one thing you hope your kids look back and remember about their childhood and you as their mama?

That I was present. That I was their biggest cheerleader, their greatest ally.

What would you tell the old "You" before you had kids?

Relax. You've got this. We won't break them or mess them up as long as we are supporting and loving them.

We are all about community, as are you! What does having a mom tribe mean to you?

I am a part of an amazing group of friends that we can share anything with. Recently my son struggled with anxiety and through talking it out with them we found a supplement that ended up giving him such relief. We watch each others kids, we pick them up when mom is running late for school pick up. We bring coffee when we know their kid has been out sick for 3 days and we know what that is like. It is amazing to have women that are there in the trenches with us. To not have to defend the exhaustion because they know it. To not have to defend the short temper when you find out the husband has been on a work trip for 4 days. To be completely honest and authentic at the 5pm witching hour.


For more information on The Guild & to keep up with all their doing in the community, be sure to visit their website and follow along on social media!

Website: www.theguildtx.com
Social Channels:
–Instagram: @theguild_tx
–Pinterest: www.pinterest.com/theguildtx
https://www.theguildtx.com/events – link to our site to sign up for dinners or art workshops