New ABA Therapy Center Coming Soon to Katy, Texas!
1 in 54 children are diagnosed with Autism Spectrum Disorder (ASD) each year. Life Skills Autism Academy offers center-based ABA Therapy designed to help children living with autism achieve their individual goals. The entire program is rooted in evidence that early intensive interventions lead to the greatest potential by children on the autism spectrum.
We are proud to announce their newest ABA Therapy center is opening soon right here in Katy.
WHAT IS ABA THERAPY AND WHY IT WORKS?
Applied Behavior Analysis (ABA) Therapy is proven to be the most effective treatment for children diagnosed with autism. ABA applies what we know about how people behave in real-life situations and adapts them into techniques that change behaviors.
Because ASD presents itself differently in each child, through differing traits, symptoms, and functioning levels, ABA is applied as a flexible program. Using research-based strategies, each child receives a customized plan designed based on personal strengths, weaknesses, and goals.
BENEFITS OF EARLY INTERVENTION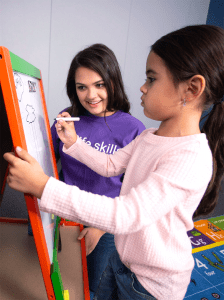 To put it simply, early intervention with ABA therapy leads to better chances of success. Although ASD is a lifelong disorder, early diagnosis (prior to age 3) and consistent treatment can help a child reach their true potential.
Several studies have shown that early intervention using ABA leads to increased language and communication skills, as well as improvements in overall attention, focus, social skills, and reduction of problematic behaviors. The goal is to help young children acquire the skills to be successful in school and beyond.
LOCAL AUTISM RESOURCE WITH LIFE SKILLS AUTISM ACADEMY
The newest Life Skills Autism Academy location employs a team of experienced certified clinicians to help answer your questions and facilitate the process of getting children with ASD started with ABA therapy. From assisting with initial diagnosis to insurance verification and more, they are here to serve as your resource for all autism-related inquiries.
At Life Skills Autism Academy, their mission is to help children write their own success stories.
To speak to one of their experts or learn more about Life Skills Autism Academy and ABA Therapy, please contact them at 888-975-4557 or [email protected], or visit their website https://lifeskillsautismacademy.com/.
This blog was sponsored by Centria Healthcare, LLC