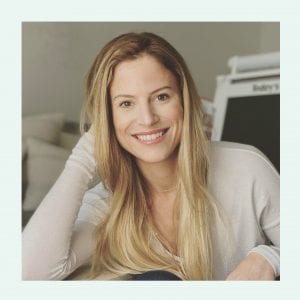 Today we want to introduce you to local mom, Alexis Bare, who runs an amazing platform called BARE IN MIND that was created just for us moms. This online platform is full of information and resources to help you feel empowered and supported as a parent. Alexis has a doctorate in Education and when she traded in her career to become (in her own words) a professional diaper changer, chef, and toddler word decoder, she realized that her struggles and insecurities as a mom were not just unique to her. So, she created a platform to quiet that "inner momalogue"- which is that loud and critical inner voice you develop as a parent questioning in tough moments if you are good at anything at all (sounds familiar, huh?). Alexis wants to help Moms quiet that voice and she does that by taking a thought or question to a specific topic and then addresses it with an expert! We are loving this page, Mamas, and we know you will, too!
We had the pleasure to chat with Alexis and learn more about her inspiration behind creating BARE IN MIND, her goals and dreams for her platform, and, of course, all things mom life.
Where are you from originally and how long have you lived in the Katy/Houston area?
I was born in Houston, Texas!  In first grade I moved to Los Angeles, California.  I attended UT Austin for undergrad and then started working in education right out of school in Houston. I can't believe I've been back in Houston for 10 years already!
How many kiddos do you have and how old are they?
I have two boys, Jaden (3 years old) and Parker (17 months).
Least favorite mom job? (i.e. packing lunches, dishes, bath time, etc.)
The matching sock and missing pacifier hunt!
Best mom hack that makes life easier?
Flour for face bumps. "Freeze" a small bags of flour – it stays soft but gets cold enough to help relieve face boo boos – especially around the eyes – and best part is if the bag breaks it's just flour instead of some of those bead packs.
What are your favorite local things to do? (with kiddos or just for mom!)
Out & About: Outdoor playgrounds – we try to go to different ones so it's entertaining for the kiddos and me ;)- we travel all over- our recent spot is Bendwood Park.
At Home: Dance- my kiddos LOVE dancing – Hamilton (on Disney+) has brought out quite the interpretive dance moves in both boys.
We're big on self-care for moms, as hard as it is to find the time, what's something you do just or yourself?
Pilates! Nothing like going from resistance training with your toddler to resistance training with friends 😉
One thing people would be surprised to know about you…
I speak Swedish and cook some mean Swedish meatballs.
Tell us about Bare In Mind?! When did you start this platform & what was the inspiration?
Bare in Mind originated after I had my first child, in 2018, which was the most vulnerable time in my life.  I struggled and had questions that I thought were unique to my own insecurities as a mom.  But as I worked through each insecurity, I kept notes. In 2020 I built the platform as a resource for moms like me, future moms like my sister, or anyone who feels alone in the parenting struggle.
What does "Decluttering the Inner Momalogue" mean? And how do you hope to help moms with that?
Being thrown up on by one kid, while the other throws a tantrum in the middle of a store can make you question if you are good at anything at all! These questions come from a loud and critical inner voice you develop as a parent that I call "the inner momalogue." I started Bare in Mind to help quiet that voice.  I created a platform that ties an "inner momalogue" thought or question to a specific topic which is then addressed by an expert.  As I have built the Bare in Mind content I have centered the platform on the goal of a safe place that provides parents confidence, and a sense of security that they are not alone in these thoughts – so far the feedback I have received on Bare in Mind has been just that.
What did you do before starting Bare in Mind?
Prior to Bare In Mind, I obtained my master's in education with certifications as a reading specialist and educational diagnostician. I worked to support students, parents, teachers, and administration in understanding how to truly differentiate curriculum and track success. I earned my doctorate in education in 2019 and before becoming a professional diaper changer, chef, and toddler word decoder (i.e., "home manager") I served as the Director of Early Childhood at a secular private school in town.
What is your main goal with sharing the information and resources you do?
Help parents feel empowered to make educated decisions and provide reassurance that you're not the only one experiencing that inner dialogue and ups and downs as a parent.
Tell us about the episodes you post and the experts you interview?
Each short episode starts with a funny and entertaining monologue that introduces the topic and then transitions to a more formal interview with an expert who addresses common questions.
What is one of your favorite interviews and why?
The hospital bag with Dr. Steele – which was my very first interview. Dr. Steele agreed to come on my page and spend time speaking with me when Bare in Mind was a blank page.
Future dreams and plans for Bare In Mind?
I dream that the information reaches and supports an even wider audience – and that what is shared by the experts hopefully meets any care taker in a place or time that is helpful in their journey through parenthood.
To learn more about BARE IN MIND, check out her website and follow on social media:
Website: www.bareinmind.org
Instagram: @bare.inmind 
Facebook: @bare.innmind
Youtube: https://www.youtube.com/channel/UCLdDV9ToeyW8eMVkNpvNCcA