Meet Lisa Zimmerman, local mom of 2 girls, born and raised Katy girl, and Lead Teacher at Pure Barre Katy. Lisa started attending Pure Barre classes in 2015 and a year later she become certified to teach classes! In case you aren't familiar with the popular pure barre workout, it is a low-impact, but high intensity work out with a combination of ballet, pilates and yoga. Pure Barre has moms of every stage and every age in every class and is safe to take before, during, and after pregnancy! The connections and relationships built with other moms is Lisa's favorite part about working there.
Keep reading to learn more about Pure Barre Katy, specials and events they have coming up, and hear from Lisa who gives a mama's perspective about why Pure Barre is so great, and of course we also chat with her about all things #momlife.
Where are you from originally and how long have you lived in the Katy/Houston area?
I grew up right here in Katy, attended Nottingham Country Elementary, Memorial Parkway Junior High and James E Taylor High School!  After attending Vanderbilt University in Nashville, my path led me back to Katy where I worked in Human Resources and Leadership Development in the oil and gas industry for 12 years before taking on my new role teaching fitness with Pure Barre Katy.  I love the flexibility for my kids schedules!
How many kiddos do you have and how old are they?
I have 2 awesome girls, Taylor who is 12 and loves venturing off the beaten path — she is into archery and weather!  Avery is 8 years old and loves all things that keep her moving — she enjoys horseback riding and gymnastics especially!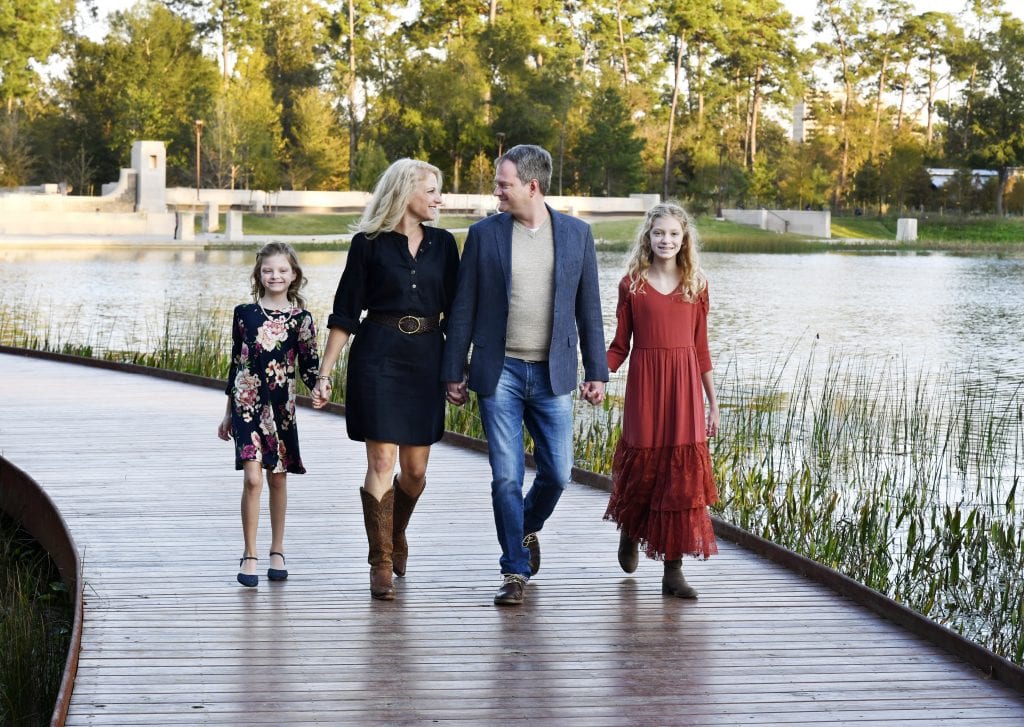 Least favorite mom job? (i.e. packing lunches, dishes, bath time, etc.)
Hands-down grocery shopping is my least favorite mom job!  I love that all the stores are doing curbside pick up now, that is so wonderful!
Best mom hack that makes life easier?
I've always believed in the kids having a designated desk and homework space (that isn't the kitchen table!) and especially with the school at home this past year that space has been invaluable!  I also love that I can prep dinner without making them clean up school work before eating!
What are your favorite local things to do? (with kiddos or just for mom!)
Just for me, my mental and physical escape is Pure Barre!  I get an hour to focus on myself, let the stress slip away and always leave feeling reset, restored and ready for the challenges the world may throw at me!
My kids and I love to go to Exploration Park to get our energy out, we also love hanging out and eating anywhere at LaCenterra!
We're big on self-care for moms, as hard as it is to find the time, what's something you do just or yourself?
I firmly believe that self-care and me time is so important for moms!  That's exactly why I started taking classes at Pure Barre — so that I could escape for a few minutes!  I just wanted to clear my brain and not be needed for a few minutes, but the physical benefits, endorphins, and community of supportive and encouraging moms has given me life!  I love that the workout is an efficient 50 minutes so you can quickly get back to those who need you feeling reenergized!
One thing people would be surprised to know about you…
I love being a girl mom and I love all things sweet and feminine, but I also LOVE ROCK N ROLL!  I miss a good rock concert with loud music and singing at the top of my lungs!
What is your role at Pure Barre Katy and how long have you worked there?
I am the Lead Teacher at Pure Barre Katy, so I work with our amazing team on training and scheduling as well as instructing all our class formats.  There is no better team of empowering and amazing Pure Barre Teachers out there!  I started taking classes in 2015 and after falling in love with technique I became certified to teach about a year later!  I love encouraging and empowering women to love their bodies, take care of themselves, and find their strength!  My job seriously rocks!
What did you do prior to working at Pure Barre?
I spent 12 years in Human Resources and Leadership Development for an Oil and Gas company downtown prior to finding Pure Barre Katy, my HR skills of listening, helping and empowering people have transitioned to Pure Barre perfectly!
How does Pure Barre compare to other workout studios and what makes it different?
Oh my goodness, Pure Barre just doesn't compare!  This is the ideal workout for Moms — it is low-impact, but high intensity and a combination of ballet, pilates and yoga.  It is safe for your joints and builds long lean muscles and the best part is that we can modify for pregnancy, post pregnancy, injuries and for building strength!  Pure Barre is the best core workout out there — which is the area in which all moms struggle!  I especially love that it tones and sculpts every muscle group in every class in an efficient fifty minute workout so you can sneak that class in anytime!  We also have all your cross training needs in house — our Classic technique offers toning and sculpting, we also have a cardio Empower class that focuses on calorie burn in a 45 minute interval style workout, and a Reform class that utilizes sliders and resistance bands for a deep strengthening and core workout!
Do you work with a lot of Moms in your classes? How does being a mama yourself impact working with those moms?
We have moms of every stage and every age in every class!  Pure Barre is safe to take before, during, and after pregnancy and we love celebrating those milestones!  Moms bond while hanging out before and after class and advice from seasoned moms at the studio is one of my favorite parts!  I love that I can bond with tired, overworked and stressed out mommas and getting to share how Pure Barre helps!  We are all in this together!
What is your favorite thing about working at Pure Barre Katy?
The community of strong and encouraging women who simply are there to empower each other and become stronger mentally and physically is my favorite part of Pure Barre!  I love knowing that whether I am taking a class or teaching one, when I enter those studio doors I will be welcomed, encouraged and loved.  I always leave feeling amazing and empowered!  Our studio is very unique in that sense.
Can you start barre at all fitness levels?
One of the most amazing things about Pure Barre is that no matter your fitness level, this is a technique that is new to everyone when they start, so all clients learn it together!  We also are unique in that while it is a group fitness class, the classes are small and the training is very individualized so that it feels like a personal training session.  The instructors are trained to assist clients with modifications as they start their journey so they can strengthen their muscles safely and quickly and we all want you to succeed!  Whether you are starting from scratch or supplementing a current workout, we can create a plan for you and assist and guide every step of the way.
Any deals or events our local moms can look out for?
Absolutely!  Be sure to join us for our February Open House the weekend of February 20th and 21st!  We are having free classes all weekend and raffles and tons of fun!  In addition, we offer new clients a FREE introductory class called Pure Foundations 4 different times a week so we can find a time that fits anyone's schedule!  *(latest offer?)**  We have classes 7 days a week starting as early as 5 am so you can sneak your workout in before the kids wake up and as late as 7 pm so you can come take class after the kids are settled back home for the night!  We also have frequent Pop Up outdoor classes, you can find us at Kendra Scott on Feb 13 and in the green spaces at LaCenterra frequently!  Check our facebook page for upcoming events!
Current Membership offers:
2021 Pure Barre Celebrates 20 Years!
Pure Start Unlimited Membership $0 enrollment and 20% off the first month.
Valentines Flash Sale: 2/12-15  14 for $14(ea) – 14 class pack for $196 ($14 a class). Class credits expire after 3 months.
Open house Weekend 2/20-21 Extra Special Membership offer for the weekend!
To learn more about Pure Barre Katy: