Introducing Colors That Pop & Owner Lucia Gebauer
Like most amazing businesses that I find, I found out about Colors That Pop from another local mom! I started following Lucia's art on social media and fell in love with her pops of color, balloon numbers, and her brilliant creativity. Lucia loves helping to create memorable events. With a passion for decorating with colorful balloons and brightening up the room, Lucia strives to make your event a showstopper!
Her wide range of designs and offerings ensure you have the exact decor you're looking for. From balloon garlands, to GIANT yard balloon numbers, balloon bouquets, columns and everything in between, make sure to put this business on your contact list! Check out our full interview with Lucia below to learn more about this mama owned business!
Where are you from originally and how long have you lived in the Katy area?
I was born in Mexico but have lived in TX all my life. My husband and I got married in 2011 and bought a house in Humble, TX. We weren't entirely happy there so we moved to Katy in 2016. My husband was born and raised in Katy so we really love this community and never want to leave!
Are you a mama? If so, how many kiddos?
I have two littles! My daughter, Kennedy, is 8 years old and my son, Zane is 3.
What did you do before opening your business?
I am a Registered Nurse. I worked for some time in the Labor and Delivery unit and some in the Postpartum unit taking care of moms and their new babies! I really love being a nurse but the hospital schedule is so difficult and just doesn't work with our family schedule at the moment.
Tell us a little about your business, when you started, and what makes it unique!
I own a balloon decorating business. I have always loved decorating for my kid's birthdays and for family members and friends. I didn't start the business officially until June of this year so it's fairly new. I think my business is unique because I provide quality work and collaborate with clients to make their vision come to life. My décor isn't just balloons- it's art!
What was the inspiration to start this colorful business?
Hands down my kid's birthday parties! I usually spend weeks preparing for my kids' parties (crazy, I know!) and the balloon décor has always been the feature that is most talked about. Many of my guests always comment on the balloons and suggest I start selling my art. I decorated many events for free and finally decided I'd like to actually get paid for my work!! I find it so fun to create the perfect display for the client and really enjoy putting it together. I've had happy clients all around and my goal is to always bring smiles to their faces!
Have you always been this creative?
I certainly have always had a passion for creating beautiful things. I learned how to work with balloons at 13 and still remember making animals and being so proud of my work. People call me creative but really I'm just having fun!
If you could describe your business in just three words, what would they be?
Beautiful, Colorful, Art.
Can you tell us all your offerings!
I offer Organic Garlands, Balloon Bouquets for any event (think birthday, anniversary, get well wishes, holidays, etc!), Columns, Giant 8' Balloon Numbers that can be displayed both indoors and outdoors, I can customize balloons with whatever wording you'd like and even display your company logo on a balloon!
What's your favorite thing about what you do?
I love to see client's faces when they see what I created for them. So far I've never had anyone ask me to change anything at all and that makes me so happy! I love brainstorming and playing around with the balloons to make the perfect arrangement.
Favorite decor or party you've ever helped decorate for?
My very favorite balloon creation I've made was actually for my daughter's 8th birthday. I made a giant rainbow with clouds that really was breathtaking. I passed it along to another family that was celebrating a birthday the next week and I recently found out they had it hung in their living room for two weeks before they could get themselves to throw it out! It was just so beautiful.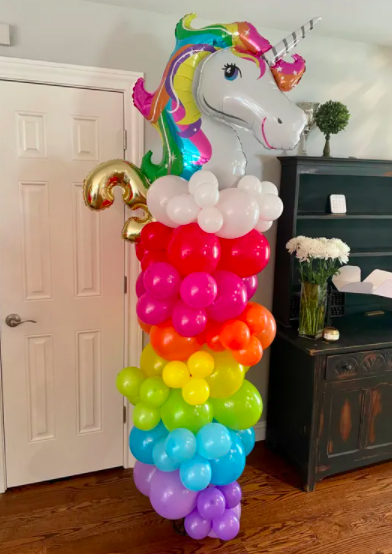 What's been the biggest challenge in launching into owning your own business?
Learning all the ins and outs! For a minute there after I decided to start Colors that Pop I questioned my decision. I was so overwhelmed with everything that comes with starting a business on your own! I realized I have to be my own photographer, marketing person, salesman, producer, driver, and the list goes on and on. It was very eye opening and I gained a whole new level of respect for all the small business owners out there. I still have a lot to learn and it is definitely a day by day growth but I really am loving every step of the way.
Future plans for your business?
I want my business's name to be recognized in our area. I plan on working very hard and growing my business as much as I can. I want to learn more, become better everyday and continue to make clients happy!
How has the Katy/Fulshear community been impactful to your business?
I've received good support from my community. I know having a successful business takes time but I also know that when your community backs you up you can get there faster. I'm excited to see who else I can serve and how other businesses and I can collaborate and grow together.
Any special, sales, or deals our Katy Moms can look out for?
I'm constantly having giveaways and flash sales. Follow me on social media to make sure you're up to date on my sales!
---
Make sure to follow along with this local business!
Instagram: @Colorsthatpop_balloons
Facebook: Colorsthatpop_balloons
Website: Colorsthatpop.com