When it comes to platforms designed to help make local living easier, we are all about it! That's exactly what Emily and Stephen Gibbons, Owners at Belocal Katy do – they strive to put out content that makes life easier for residents! BeLocal introduces newcomers to the place they now call home and introduce them to local providers they need.
The N2 Company, BeLocal's parent company, began its journey to print media powerhouse status through its flagship product, Stroll magazines. you might know Stroll Cane Island! These custom publications, which serve well-established neighborhoods, are the perfect vessel to connect residents to their neighbors down the street. But N2 realized a need wasn't being met: informing the newest homebuyers on places to go and people to see in their area, outside of the neighborhood.
Enter BeLocal: the comprehensive guide for all new movers to the greater community. The first BeLocal magazine hit new movers' mailboxes back in 2018. Since then, they've expanded to serve residents in more than 100 communities across the country.
Emily and Stephen love bringing this concept to our community and watching residents use their publication as a tool to get to know thier new city! What can you expect from them? Insider tips from long-time residents make settling in easier than ever and relevant, timely updates that complement their printed guides, keeping new residents in the know.
We got to chat with this talented duo all about local Katy life, their platform, and hopes for the future!
---

Where are you from originally and how long have you lived in the Katy area?
Emily was born in Dallas, TX…spent her early years growing up in Atlanta, GA and moved to Houston in elementary school where she lived with family and friends until graduating from Sam Houston State University. Stephen was born and raised in Atlanta, GA until he headed to college at Auburn University. After getting married, we lived in Atlanta for about 8 years and moved to Katy in 2018. We knew very little about Katy when we decided to lay down our roots here but we absolutely love it!
How many kiddos do you have and what are their ages?
We have been blessed with two beautiful children, William (6) and Amelia (4), and are now expecting our third in August of 2023!
What's the biggest gift about being parents?
It's hard to think back to this mindset but there was a day when we didn't know if we would ever be able to call ourselves parents. Shortly after we got married we decided we wanted to grow our family and we quickly ran into fertility issues. A few rough years went by of trying everything in the book that didn't seem to be working, led us to IVF and God blessed us on our first round with our sweet William. Shortly after William's first birthday we found out that we were expecting naturally and that God had sent us our next blessing, Amelia. Now being blessed once more with a third child arriving this Summer, to this day it almost still seems surreal that our family has expanded to five in just the blink of an eye. It's hard to answer this question with a straight and forward response because being a parent is the most rewarding gift that we have ever received. They make us want to become better individuals every single day. They make you experience life through their eyes, which makes everything better, and they bring a joy that is hard to put into words.
One thing people would be surprised to know about you…
We are each highly competitive, but in our own ways! Emily was a competitive dancer in high school, and if you ever find yourself beating her even in a friendly board game to this day…watch out! 😉 Most people are also shocked to hear that Stephen is so competitive, as he's often mild-mannered outside of those environments. But his time on the Auburn football team, coaching our kid's sports teams and essentially a lifelong career in sales leads him to seek out virtually any kind of "fun" competition he can get his hands on.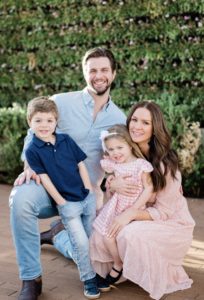 Favorite local things to do in the area?
We love to eat so any new restaurant that opens we are there as quickly as we can to see what they have to offer. We love going to kid friendly places, local parks & playgrounds, and we really enjoy the close proximity to downtown, where in a quick 20 minute drive we have the luxuries of a big city with amazing museums, the zoo, etc. at our fingertips.
What is your go-to activity for yourself for pampering or for fun?
Answers are on the opposite end of the spectrum here! Emily loves a good pampering day which would include a visit to her favorite nail salon, All Natural Nail & Spa, a facial from Le Chloe Med Spa, hitting up a few of her go-to boutiques for shopping like Mimosa Boutique, Teal & Poppy or The Yaya Club, and then out to dinner at a local favorite restaurant. Stephen on the other hand, loves to start his day off working out at Bona Fitness with his sworn-by trainer, Javicz Jones aka JaBeast Fitness & Health. He has thoroughly enjoyed coaching our children's sports teams with Katy Youth Football, Katy Pony Baseball, and several different i9 Sports leagues as well. If he had a second dream job, he'd be a gourmet pitmaster, so he can also be found standing in line for Brett's BBQ in Katy, or hanging out at HDM Smokers right down the road in Brookshire, dreaming of buying his own custom bbq pit one day! And of course, Emily and Stephen can at least agree on a quick weekend trip to Galveston, or perhaps Cinnamon Shores in Port A!
Best parenting hack that makes life easier?
Having consistent routines is my obvious answer but really, I think what we have learned is having proper expectations in every situation. Not building up something in your head and when it doesn't happen getting bent out of shape about it. We live in this world of social media and highlight reels so it looks like parenting is this super easy glamorous job and reality is that is not what it looks like most of the time. So, just having realistic expectations whether it's dining out, sports, temper tantrums, flying, trying new foods, road trips…whatever it may be, have fun with it!
Let's talk BeLocal! When did you start and what's your mission?
BeLocal Katy is actually our third franchise venture within out umbrella company, The N2 Company. We were specifically passionate about bringing a BeLocal to Katy because it is written by Katy residents and tailored to new-movers in the area who need help receiving top recommendations. We found ourselves in this exact position just a short time ago when we re-located to Katy in 2018. Word-of-mouth referrals are typically best for most families and local business, but when you are brand new, you hardly know anyone to ask! BeLocal provides a credible solution to that problem by taking top recommendations and tips from hundreds of Katy residents, and allows deserving local businesses to get a head start by making an early, impactful impression on them.
You love to help local families, but also local businesses- tell us about that.
So many smart, local business owners want to find creative ways to continue to grow and market their business. But many have no clue where to start. Or have been burned by disappointing marketing ventures in the past. Or maybe have sworn off advertising all together, in favor of word-of-moth referrals instead. WE LOVE helping this type of client we just described. They are often very deserving of getting their name out to a great group of local families and consumers, and we get to sit down and provide thorough and thoughtful solutions to help them reach their goals. Perhaps what we enjoy most is that we don't just offer BeLocal Katy as a solution. We offer private community-based marketing platforms for neighborhoods like Cane Island, Weston Lakes, River Oaks, Tanglewood, Memorial, Woodlands, and many, many more around Greater Houston. We also offer a full range of online & digital solutions, in case niche print is not what a business really needs at that time. We love referring businesses to other trustworthy marketing mediums such as KMN where we know immense value will be added! And many times, a creative combination of all-the-above might give a particular business exactly what they need. Being a true consultant is the BEST part of this job.
Best practices in finding the best go-to local resources for families?
Ask around where you can, read reviews, do your research, and even look to local advertising…with one big caveat…take it all with a grain of salt! Opinions differ, some people just love leaving bad reviews for sport, some business pay for positive reviews, and while paid sponsorship and advertising can be great resources, the vetting process by the advertising company themselves can differ drastically in terms of quality control. Some marketing companies will advertise for any business who can write a check or charge a credit card. What we love about mediums such as KMN is that a strict vetting process takes place…and only companies that would be referred to direct family members are considered. We adopt this exact same principle top the best of our abilities, so we can always been seen as an equally trustworthy advocate of business with high character and integrity.
Favorite thing about what you do?
We help local business win by helping them reach their ideal clientele.
What are your future plans for your platform and magazine?
We will continue to develop BeLocal Katy into not just a go-to resource for new families in the area, but also a community-wide print & online guide that all Katy residents can be proud of and find value within. While we do see many forms of "irrelevant print" failing, we can attest personally to the niche, content-relevant print forms such as BeLocal absolutely exploding in demand and popularity! When a reader has a personal connection to the content that they can hold physically in their hands, it, as the cool kids say now "jut hits different". Katy has been without this type of a print resource that they can truly call their own for some time now, and we love watching BeLocal Katy continue to grow and fill that gap.
What can we look out for from y'all?
As out family continues to grow, look for the same from our franchise in 2023! We continue to add to our tried-and-true digital solution of Google and SEO etc., but now are putting an emphasis on some exciting (and surprisingly inexpensive) solutions such as customized television commercial that can be targeted and streamed to a very specific group of clientele! Also, be on the lookout for another "magazine" most likely in 2023. We are evaluating some nearby communities where we may choose to focus next…or maybe even a Real-Estate-centric magazine unlike Katy has ever seen before. Would love to hear the "popular opinion" from Katy locals on what they'd love to see next!
–
https://www.facebook.com/BeLocalKaty/
https://www.instagram.com/belocalkaty
https://www.instagram.com/strollcaneisland
https://www.instagram.com/strollriveroaks