Featuring Fish Fixe Co-Owner/Founder & Katy Mama Emily Castro
A busy, working family wanted seafood options, so they set out to find them. That's how it all started for Co-Founder Emily Castro and Founder Melissa Harrington of Fish Fixe.Their philosophy has always been that families and friendships are built around the dinner table, so let's get people sitting around it more often. So, together, they sought out to bring people together over high quality, premium seafood that they can feel confident in purchasing and preparing.
Some ideas evolve over time, and some hit you square in the face on your last day of a much needed vacation. The latter happened to these former college teammates as they soaked up their last few hours of sunshine in coastal Mexico.
Both born with an entrepreneurial spirit, Emily and Melissa often talked about business ideas that would lead to more quality time with their families and more flexible work hours, but they never thought they'd run ashore in the seafood business.
There they were, sitting in a pool in Mexico having the same conversation that they frequently had, but this time over a shared experience that had touched both of their lives – seafood! Then, out of nowhere it hit them square in the face. If both of their busy families wanted and needed a more convenient way to incorporate seafood into their lives how many more people needed it?
And with that one simple question – Fish Fixe was born.
These partners are passionate about making it convenient for people to thrive on the health benefits of seafood. Join us in celebrating and highlighting this amazing small business with big dreams and ambitions! Catch our full interview with Emily, a local Katy mama, below!
---
Where are you from and how long have you lived in Katy?
Born and raised in Plano, Texas. We lived in Houston for 10 years and have been in Katy for the past 4 and ½ years.
Tell us a little bit about Fish Fixe, when you started, and how you came up with the concept?
We started Fish Fixe in 2017 and the idea actually came to us while we were on vacation in Mexico. .  We launched our business 120 days later.. (You can read the whole story here- I'm not sure what to pull from https://fishfixe.com/learn-more/)
What's unique about your business?
We are changing the way Americans think about seafood. We are the first company marketing to women, the purchasers (and let's be real, decision-makers in the home). The seafood industry is incredibly innovative but its marketing has not evolved. 99% of CEOs in the Seafood industry are men- marketing to men, about the fish that the men caught.
How do you source your fish? Farm-raised or wild?
We have always been strong supporters of both responsibly caught and responsibly raised seafood. We believe that diversity in consumption plays a huge role in protecting and preserving our God-given natural seafood resources as well as ensuring a healthy food supply for future generations. For these reasons, we procure both wild-caught and farm-raised products. You can find our full list of products on our website: https://fishfixe.com/learn-more/our-products/ . All of our products are untreated and sustainably sourced.
Talk about your passion for seafood!
80% of Americans do not eat enough seafood. We are passionate about breaking down the barriers that prevent people from eating seafood 2 times a week. Not only is seafood delicious, but it is also a very healthy option. Seafood is packed full of essential nutrients, vitamins, and minerals that are essential for a healthy lifestyle. Seafood is simple to prepare and one of the most versatile proteins there is!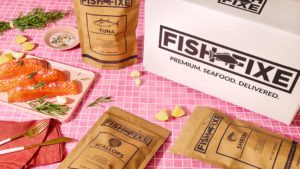 Ok, let talk Shark Tank! How was the experience? What inspired you to do it?
I have always loved Shark Tank- watching it for years while I stayed up late working (my corporate job)- dreaming of what it would be like to own my own business. My business partner put in the application to Shark Tank behind my back- and as we made it further along in the interview process, I made the decision to leave my career of 14 year to prepare for the chance of a lifetime. The entire process was an absolute dream and we are still pinching ourselves that Lori is our business partner.
Did you strike a deal and who was your favorite shark? (we love Lori!)
Fun fact: only 50% of the deals made on air actually close off air. We did close a deal with Lori after the show and she is truly everything you could imagine. (We have a group text!) If you haven't seen the episode, she saved us from the ultimate shark- Mr. Wonderful!!
Have you always been an entrepreneur at heart?
Yes- passed down from my grandparents and my parents. I knew one day I would take on the entrepreneurial world- just wasn't sure when or how. My business partner- has been an entrepreneur since we graduated from A&M and a true inspiration.
We're giant advocates for supporting local! Tell us how the Katy community has gotten you where you are now.
From neighborhood friends to local businesses- so many people have stepped up to support and mentor us along the way. We have an amazing support network in Katy and the surrounding areas.
Future plans and dreams for your business?
We want to be the Butcherbox of seafood. Our dream is to help Americans incorporate more seafood into their lives and we help we can play a role in that. Also, on the horizon, we are in the final steps of finalizing partnerships with some really cool people to take our brand to the next level (like everyone's favorite TikTok grandma)- stay tuned!
Any special, sales, or deals our Katy Moms can look out for?
Yes! Use code KATYMOMS for 10% off your order. Shop at www.fishfixe.com
Below are all the places you can find and follow Fish Fixe!
instagram: @fish.fixe
facebook: @fixedonfish
pinterest: @FishFixeDelivery
twitter:@FishFixeSeafood