Ask an Expert With The Goddard School
The Goddard School is widely considered as the most premier Preschool with over 500 schools countrywide. The Goddard School embraces the idea of child-centered play in everything that is designed for the learners. This approach helps children develop emotional, academic, social, creative and physical skills while providing them with a well-rounded experience. The main goals are to help the children become confident and joyful and to prepare them fully for school and life. This fundamental aspect is most important to the Goddard brand. The program and materials are designed specifically for your child to embrace authentic learning in its most natural way—through play and exploration.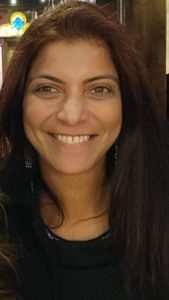 Mrs. Ruby Munduchirakal has over 15 years of experience in Early Childhood Education and will celebrate her 10th anniversary as the Director of The Goddard School, Ranch Point Drive (next to Shafer Elementary) this year. With several preschool options now available in the community for young children, we sat down with Ms. Ruby to find out what truly makes The Goddard School the best preschool for your child.
Tell us what made you choose Early Childhood Education?
I have always enjoyed teaching and spending time with young children. I was given an opportunity to teach Yoga at a Preschool in Dallas in 2006. The Director I worked with at the time, was an excellent mentor who taught me the management and operational aspects of a preschool. The motivation to build confidence among our teachers and watching the children grow and the ability we have to influence these young lives and our future generation cemented my passion for Early Childhood Education.
What is the one thing that motivates you to do what you do for so many years at the Goddard School?
I have served as Director of the Goddard School at the Ranch Point location, since the first day they opened their doors on August 26, 2013 with 40 children. We pride ourselves in delivering what we promise to our children and their families. This includes excellent care, clean surroundings, healthy meal options, STEAM rich curriculum, safety and most importantly, providing a safe and happy environment for your child.
Our well trained teachers who are so dedicated to the school and are invested in every child they teach as well as our Owners who have given us the flexibility to build and mould the culture and essence of our school, keep me motivated to do my best every day.
Can you tell us about how operations is managed? Does management have of an on-site Owner and a School Director?
Yes, Mr. Ashish and Mrs. Shibani Gupta are the owners of the Goddard Schools on Ranch Point Dr and Westridge Creek Lane. They both are very passionate about Early Childhood Education and are actively involved with the day to day activities of the school. Both campuses have on-site Directors who bring several years of experience and add their unique flavor to their respective schools.
Safety is of utmost importance when parents consider schools for their children. How does the Goddard School ensure the safety of the school campus and premises?
The entrance to the main school building is a secure locked door along with a Hand Scanner at the front entrance. We always have at least one of our Admin staff at the Front Office who monitors the door at all times. Only authorized visitors are allowed to enter the school.
Security alarms are installed and routinely tested at all the playground and exit gates. There is a live feed security camera that monitors the campus perimeter and playground area. The school campus is equipped with a fire alarm monitoring system and sprinklers.
 The school buses are installed with security alarm that ensures that all children safely leave and return to the destination.
Name to face checks are done to children when they leave/ enter a classroom for gym/ playground time and at every door threshold to ensure their safety.
The teachers and the director perform a heat touch test as well as check for any broken or unstable parts in the playground everyday. Playground equipment check is done annually by a professional company.
Little children learn through touching, exploring textures and sometimes also placing toys in their mouth. How are the toys cleaned?
All the toys, tables, chairs and other frequently used surface are cleaned and sanitized several times during the day. We have a cleaning company that comes in every night to clean and sanitize the entire school premises.
Disinfx, the leading resource for professional disinfection services for school districts, comes in once a month to perform a deep cleaning, disinfecting and sanitizing routine at the school.
There are so many extra curricular options available today. Does your school offer any?
The Goddard School offers several Enrichment programs at NO Additional Cost. The owners are very passionate in their belief that every child should be given an opportunity at an early age to explore different aspects of enrichment which helps provide a boost in confidence and a willingness to try new things. Some of the Enrichment programs offered are Dance, Music, Gymnastics and Spanish.
During summer, we have Inside field trips organized for our children to balance our curriculum. Last year, we had a petting zoo, live ice-cream making sessions, reptile encounters, cooking classes and a magician to name a few. Our Pre-kindergarteners also went on outdoor field trips last year.
Does the school have an Indoor Gym? For Houston Heat!!!
Yes, we have an Indoor Gym. In addition to exercise and play equipment, we also have a BEAM projector which has several interactive games to help develop gross motor skills and provide exercise to the children in a fun interactive way.
During the summer months, every Friday is Splash day, which our little ones enjoy so much!
With more than 170 children enrolled in your school, how do you manage playground time?
We have two playgrounds in each school, one for our younger children (12months to 3 year olds) and one for our older children (3 to 5 year olds). The playgrounds are provided with shade and Poured-in-place slip resistant surface for additional protection. The classrooms have a schedule they follow to go out for outdoor play and exploration time, twice a day, once in the morning and once in the afternoon..
Does the school use technology (Smart Boards/ Computers/ iPads)? How is screen time limited?
There is absolutely no screen time for our children until they are 3 years old. The Preschool classrooms (3 year olds) has a computer which is used only for instructional purposes and screen time is limited to 20 minutes a day. Our Junior Kindergarteners (4 years and up) have a smart board in their classroom which is used for interactive lessons. iPads are not provided to children at any time.
Can you tell us a little more about how lessons are taught in the school? Is there a curriculum the teachers follow?
Teaching a STREAM (Science, Technology, Reading, Engineering, Arts, Math) rich curriculum, which is incorporated from the Infant room, students are given opportunities to explore and participate in project based studies across multiple learning domains. Goddard's new comprehensive education program will include curriculum which is intuitively called 'Wonder of Learning'. This model aims to amplify teachers' ability to use their skills and creativity in a meaningful way while designing their lesson plans and will significantly professionalize their role.
The curriculum follows a monthly theme which is reflected in the window décor, curriculum and activities around the classroom. Teachers are encouraged to use their creativity and customize their curriculum to tailor to their classroom's needs.
Tell us about the training provided to your teachers?
The teachers are all CPR certified and are required to complete 24 hours of mandatory age- appropriate and classroom management training. Teachers are also provided training on Health and Safety as well as Cleaning and Sanitization procedures.
We also have an In-Service day annually, where we have a guest speaker provide professional training to our teachers.
What makes your school truly one of a kind?
Our teachers, who we take great pride in, provide unparalleled care for our children. The owners continuously motivate and set high standards for us as  a team. We also host several events for both our enrolled families as well as the community which aims to provide fun, hands on learning experiences for little ones.
Delivering on what we promise while providing the most warm, comforting and safe environment is what makes us special. The happy faces of the children who come into school everyday and the parents who place their trust in us are a true testament to our success story!