Creator Camp is Katy's Ultimate Creative-Tech Summer Camp! Hands-on media classes in Filmmaking, Animation, YouTube Production, plus AI Camp, game design, and Minecraft Modding. Ages 6-13. 2-Day to 5-Day camps. Win an Oscar!
Katy Moms Details:
●  Ages 6-13
●  8:30am-3:30pm
●  3-Day & 2-Day Camps throughout the Summer.
●  Address: 5561 3rd St, Katy, TX 77493
●  Website:
https://www.creatorcamp.org/?utm_source=Katy+Moms&utm_medium=Camp+Guide&utm_campaign=Summer+Mom+Network+2023
●  Number: 713-417-9025
Our in-person, hands-on camps are designed specifically for students aged 6-13, offering them a unique opportunity to learn from college-level instructors and create their very own projects in real-time.
At our 3-day creative camps, students will unleash their imagination and turn their wildest ideas into reality. With each day, you'll be amazed by the new film or animation they created, learning from real industry techniques and creating special effects, green screen effects, claymation, Lego animation and more. On the last day, Creator Camp will transform into a mock Oscars film festival, where students get to show off their best films on the big screen to compete for the title of best picture!
For the tech enthusiasts, our 2-day camps are designed to provide students with an exciting introduction to the world of technology. Whether it's learning how to code by modding minecraft, creating an AI from their own machine learning Models, or developing video games, our highly-skilled instructors will make learning tech fun and inspiring. With the latest technology at their fingertips, they will be able to create projects that they'll be proud to show your friends and family.
Join us at Creator Camp this summer, and explore your creativity!
Meet Texas' favorite summer camp! With one, two, and three week sessions and over 45 activity choices, Camp Olympia is the ultimate overnight camp experience for boys and girls ages 6-16. Located 95 miles north of Houston, Camp Olympia provides the perfect setting for fun and adventure along Lake Livingston in the Pineywoods. Campers make friends and gain independence while building teamwork and leadership skills through a customized camp experience and counselor mentorship.
Dates/Prices: 
Term 1: May 28 – June 10 (14 days) – $4,450
Term 2: June 11 – July 1 (21 days) – $5,575
CLP Term 2: June 11 – July 1 (21 days) – $6,670
SPARK Week 1*: June 11 – June 17 (7 days) – $2,285
Term 2B: June 18 – July 1 (14 days) – $4,450
Term 3: July 2 – July 22 (21 days) – $5,575
CLP Term 3: July 2 – July 22 (21 days) – $6,670
SPARK Week 2*: July 2 – July 8 (7 days) – $2,285
Term 3B: July 9 – July 22 (14 days) – $4,450
Term 4: July 23 – August 5 (14 days) – $4,450
Join us for a week of Ninja Training and games at USA Ninja. Our camps will include instruction in all of our Ninja skills and obstacles like the Warped Wall, Devil Steps, Rock Wall, Ropes, Cargo Net, Hanging Ladder and many more! We will have plenty of games and challenges, as well as some off the floor quiet time. Campers will end the week by testing their skills in our USA Ninja Challenge Cup on Friday. In the Cup, each camper will run an obstacle course that ends with Hitting the Buzzer with lights and horns going off. Parent are invited to attend the Cup on Friday morning to cheer on the campers.
Every camper will receive a special Ninja Summer Camp T Shirt and a Swag Bag.  Our camps run weekly (Monday through Friday) from 8:30 am to noon. The cost is $235 for the one week camp.  Camp is for ages 5 – 13.
Address & Contact:
Art Camps at Cordovan Art School
Art Camps at Cordovan Art School have been voted the "Best Art Camps in Houston"! Kids 5-16 will embark on an awesome creative adventure in over 40 fun-themed weekly camp adventures which include: Video Game Art, Talk to the Animals (with live animals), Super Heroes & Villains, Fantasy Art, Space Art, Sea Life, Anime, and more. Kids will experience the use of clay, watercolor, acrylic, pottery, pastels, paper mache and mixed media. The measure of Cordovan's success is in the happy, smiling faces of kids enjoying their creativity and their imaginations!
Republic Gymnastics & Dance
is hosting Summer Camps again with some amazing themes! We go every year and it's sure to provide lots of fun!
Camp Details:
Gymnastics Camp,Adventure Awaits // June 13-17: Ages 3 (potty trained) and Up – 9am-4:00pm
Gymnastics Camp, Superhero Showdown // July 11-15: Ages 3 (potty trained) and Up – 9am-4pm
Musical Magic Dance Camp // July 18-22: Ages 3 (potty trained) and Up – 9am- 4pm
Classic Remix Gym Camp // August 8 -12: Ages 3 (potty trained) and Up – 9am- 4pm
CAMP PRICING: $250/week
Summertime at Goddard is an exciting extension of our School year and a great way to keep your child engaged and active with a routine they know and teachers they love. We offer a broad range of programs to pique the interest and curiosity of every child—there's something fun for everyone!
Let your children learn, grow and play in a familiar, caring environment this summer! This Summer, we are showcasing various career options to inquisitive little minds with our "When you Grow up" theme! Every week explores a different career with activities and field trips designed to provide hands on learning through play and exploration! Space is Limited! Call us to Reserve your spot!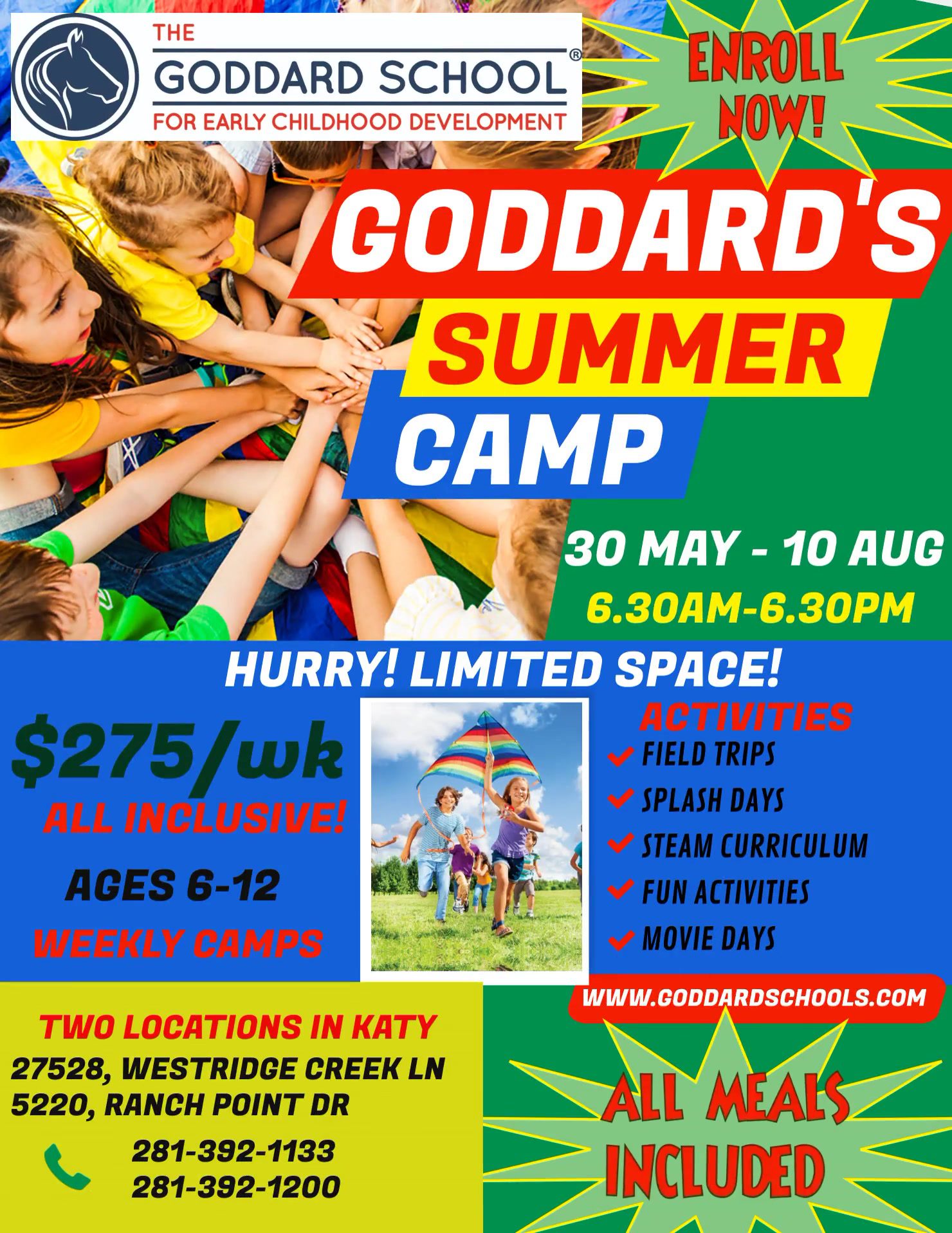 ROSE Therapeutic Farm Summer Camps
ROSE Therapeutic Farm Summer Camps are an exciting way to light up any young person's summer. The camps provide unique, hands-on opportunities for learning, growth, and fun. Campers spend their time at the farm immersed in the natural world, with animals and the environment. Each camp is loaded with creative, enriching activities meant to help your kiddos connect with nature and learn how to enjoy "the simple life".
The camps are geared toward children ages 6 – 12  We may offer different age groups in the future so please email me if you have a younger or older child that is interested.
*Each camp will have 18 or less participants.  We must have at least 5 campers to start each camp.
Each day will include Morning Activities with all of the animals, a special animal educational experience and a game or craft centered around farm life!
​Two Day Session:  $160

June 2nd & 3rd – Thursday & Friday
4 Day Session:  $300​

June 6th – 10th – Monday – Thursday

June 13th – 16th – Monday – Thursday
​
Mommy & Me Single Day Farm Camp: $90 for Mom or Dad and 1st Child – $25 for Additional Child
Address:
1324 Peach Ridge Rd
Brookshire, TX 77423
Strong Style Martial Arts Katy
Is your child interested in all things science related?
Atomic Adventures offers weekly themed STEAM summer programs for children ages 6-10 (incoming 1st to 5th graders).  Our program curriculum is designed and taught by local Katy ISD teachers and offers a fun way to learn about each STEAM discipline.  We offer three convenient locations in the Katy area and are excited to welcome your child into our program!
Dates, Location and Themes:
Date: June 5-9
Location: Let's Dance and More, 11605 S Fry, Suite 103, Fulshear, TX 77441
Theme: STEAM-tacular Science Camp
Description: Coding!  Forensics! Force & Motion! Mad science, space activities and more!! Together we'll touch on all of the STEAM disciplines for a fun and exciting week! 
Date: June 12-16
Location:  Cinco Ranch Lakehouse, 25202 Springwood Lake Dr, Katy, TX 77494
Theme: STEAM-tacular Science Camp
Description: Coding!  Forensics! Force & Motion! Mad science, space activities and more!! Together we'll touch on all of the STEAM disciplines for a fun and exciting week! 
Date: June 26-30
Location:  Cinco Ranch Church of Christ, 6655 S Mason Rd, Katy, TX 77450
Theme: Mad Science
Description: Put on your best Einstein wig and join us for a week of mad science! We will be exploring kitchen chemistry, weather, force in motion, electricity and more! If you join us, you can expect a week of hands on exhilarating experiments.
Date: July 3-7
Location:  Cinco Ranch Church of Christ, 6655 S Mason Rd, Katy, TX 77450
Theme: Crime Scene Investigators
Description: Have you ever wanted to be a crime scene investigator? Kids conduct cool science experiments using fingerprinting, footprinting, dental analysis, handwriting analysis, and chromatography. They collect clues, identify suspects, and solve crimes using their crime-fighting tool kits.  Join us for a week of mystery as we learn forensic sills to solve a delicious crime.
Date: July 10-14
Location: Cinco Ranch Church of Christ, 6655 S Mason Rd, Katy, TX 77450
Theme: 3-2-1 Blast Off
Description: Join us for this out-of-this world adventure as we learn what it takes to be an astronaut! We will be training in several skills in order to complete a mission to the ISS.
Dynamo | Dash Youth Soccer
Dynamo | Dash Youth Soccer Camps' mission is to provide a fun, safe camp experience, delivered by our professional coaching staff, for youth soccer players of all ages and ability levels.
Striker vs. Keeper Camp
Dates: June 19, 20, 22 & 23
Times: 6:00 PM to 7:30 PM (birth years: 2016-2012) or 7:45 PM to 9:15 PM (birth years: 2011-2005)
Locations: Riverbend Baptist Church (27600 Farm to Market 1093, Fulshear, TX 77441)
Birth Years: 2016-2005
Registration Fee:  $145 ($130 if registered before May 6)
Players can choose to participate in 'Striker' or 'Goalkeeper' specific training, conducted by licensed professional coaches. Each day, 'Strikers' and 'Goalkeepers' separate for technical training, then come together to compete in action packed daily competitions. Which group will prevail this summer?
Click HERE to register for this camp or any other June camp!
Mini Kickers Camp
Dates: July 24, 25, 27, 28
Times: 6:00 PM to 7:00 PM
Locations: Riverbend Baptist Church (27600 Farm to Market 1093, Fulshear, TX 77441)
Birth Years: June 2020-2017
Registration Fee:  $85 ($70 if registered before June 19)
Players will participate in lots of fun small sided games and will focus on the Soccer fundamentals of the game which include their agility, balance and coordination.
Click HERE to register for this camp or any other July camp!
World Cup Camp
Dates: July 24, 25, 27, 28
Times: 6:00 PM to 7:00 PM
Locations: Riverbend Baptist Church (27600 Farm to Market 1093, Fulshear, TX 77441)
Birth Years: 2016-2011
Registration Fee: $185 ($170 if registered before June 19)
The professional coaching staff will deliver an action-packed Soccer camp focusing on individual fundamental skills (receiving, dribbling, passing, and shooting). Every day, players will participate in fun, competitive small-sided games and even play in their own "World Cup" themed tournament.
Click HERE to register for this camp or any other July camp!
EARLY REGISTRATION DISCOUNT: To receive the early registration discount of $15 register for a June Camp before May 6 or a July camp before June 19.
Offer your child a Spanish Immersion Summer Program at Spanish Learning Castle that will allow them to expand their social and language skills.
Registration is now OPEN for
2023 SUMMER CAMPS AT Spanish Learning Castle 
Calling all Scientists, Astronauts, and ADVENTURE SEEKERS between the ages of 2 years old to 10 years old!
You are invited to Spanish Learning Castle's Summer Camp Adventure that starts June 5th! Spanish Learning Castor a gift for life!
Pure Soccer, the upscale 11,000-square-foot indoor and outdoor soccer training facility will offer week-long skills camps and small group training for beginners to advanced players taught by Pure Soccer's innovative and highly-trained coaching staff. The kids will be put into groups of eight based on age and skill level. They will not mix or interchange with the other summer camp groups going on simultaneously.
Registration for our 2023 Summer Skills, Invitational and Pro-Camps is now open!
Skills Camps will be from May 29 thru Aug 7, at our Katy location. The Skills Camps will be from 8am-12pm and 1-5pm every Mon to Fri, except for the week July 17 there will be no morning Skills Camp. See timetable below for details.
Skills Camps are for ages 6 years and up.
The Skills Camps are $270 for the week and can be purchased online via the button below. Individual days are available at $65 per day depending on availability and can only be purchased in person or over the phone.
Please note that when registering online via the button below please ensure that you schedule the week, time, and location that you would like to attend. Confirmation of both purchase and schedule will be sent via email.
Challenge Island® is a hands-on, high-interest enrichment program based on cutting edge STEAM education, program based learning & 21st century skills.
Join the millions of kids who have experienced the magic of our award-winning Challenge Island camps! Inspired by everything kids love most, our epic camp adventures are vacations in their own right. When school is out STEAM is in with the World's #1 STEAM Program. We have over 25 themes and hundreds of Challenges so no matter how many weeks you choose, new and exciting challenges await you!
Location 1: Church of Holy Apostles-
Week: June 5-9, June 12-16, June 19-23, July 10-14, July 17-21
Cost: Full day: $290.00  /  Half day: $199.00
*Extended care may be available on request*
Location 2: Cinco Camp Lakehouse-
Week: June 26-30/ July 24-28
Ages: 5-12 yrs/ Campers divided in 2 groups 5-7 yrs & 8-12/13yrs
Cost: Full day: $280.00  /  Half Day $199.00
Description: 
Our children's camps are full of wonder, adventure, and magic! This summer, dancers ages 3-8, will be fully immersed in the world of their favorite stories as they explore new dance styles, interact with beloved characters, and discover their love for performing! We are in our tenth year of offering quality dance camps and trust us, your little dancer won't want to leave!
Details:
Three-Day Camp Themes: Learn how to dance with your favorite storybook royalty at "Pretty Princess" camp. Stay cool with Arendale's favorite sisters at "Frozen Friends" camp. Hang out with the family madrigal at our wildly popular "Encanto" camps!
9:00-11:30 AM
Ages 3-8
$160.00 (only pay $50.00 to register)
One-Day Camp Themes: Spend the day with Moana at our "Aloha, Summer" camp or do ballet with your favorite doll at "Dancing Dolls"
9:00-11:30 AM
Ages 3-8
$55.00 total (only pay $25.00 to register)
Find dates and learn more at…
We also offer summer dance classes, ballet intensives, performance teams, and musical theatre shows! Pointe of Grace is owned by Angela and Ginger, a mother-daughter duo passionate about offering family-centered, age-appropriate dance in the Katy community.  Check out our website and join the family!
Now, more than ever, kids need connection. Here at
Cook n Grow
, our mission is to get kiddos off of their screens, and into the kitchen! In our summer camps, your young chef will create new recipes each day, and taste their delicious creations at the end of class. We are looking forward to a great summer, register today!
Our camps run in both the mornings and afternoons. Register for the week or per day on days that work for your schedule. All our camps are drop off only, unless it's a Mommy n Me class.
Morning Sessions
9:00 AM – 12:00 PM, Monday through Friday
​
Afternoon Sessions
1:00 PM – 4:00 PM, Monday through Friday
​
There is no registration fee! You can register your child for a full week of morning or afternoon camps. For a greater opportunity register your child for both mornings and afternoons. Kids registered for both sessions stay for lunch from 12:00 – 1:00PM at NO extra charge (lunch not provided).
Our cooking camps are high quality enrichment programs where kids stay engaged with our interactive cooking. Here, kids don't watch TV or see our Chef instructors cook. Instead, the kids get to peel, chop, whisk, and mix using our child-safe cooking equipment. Most importantly, they learn while having a blast!
​​
Cook n Grow takes food allergies very seriously. We are very knowledgeable and have been working with kids with food allergies for over a decade. Rest assured that your kids will enjoy cooking with us safely.
​
Our camps fill up quickly! If the camp you are trying to register for is full, make sure to add your kids to the wait list!
 Ivybrook Academy Richmond
Summer camp at Ivybrook Academy Aliana is now open! Our hands-on, discovery-based summer program begins June 5 for ages 2-6 years old. Currently enrolled AND new families are invited to attend. For questions or instructions on how to reserve your spot, contact us today!
Families may enroll for summer camp on a weekly basis (families must enroll for a minimum of 2 weeks)
Each week features a different theme
Summer camp is held Monday-Friday, 9am-12pm at 

Ivybrook

 Academy Aliana (10414 Harlem Rd., Richmond, TX, 77407)
Camp is open to in-house families and the community!
Tuition and registration: $180 per week + $50 one-time supply free
For questions about summer camp, please call Sarah at (832) 945-1642, option 1
CLICK HERE for more camp details
This summer MyPlace will be taking the summer campers on a fabulous trip around the world.
Our adventures will start in Mexico and will finish all the way in Madagascar. Students will get to know and explore facts, symbols, and traditions of some countries around the world. Our journey will be filled with hands-on activities, science projects, music and movement, physical activities, and much more.
We will have two field trips every week and our students will get to enjoy splash days, snow cone days, dancing challenges and many more fun and exciting activities through the whole summer.
Summer Camp 2023 is around the corner, and we can't wait to go on this amazing adventure.
Click HERE for full summer schedule!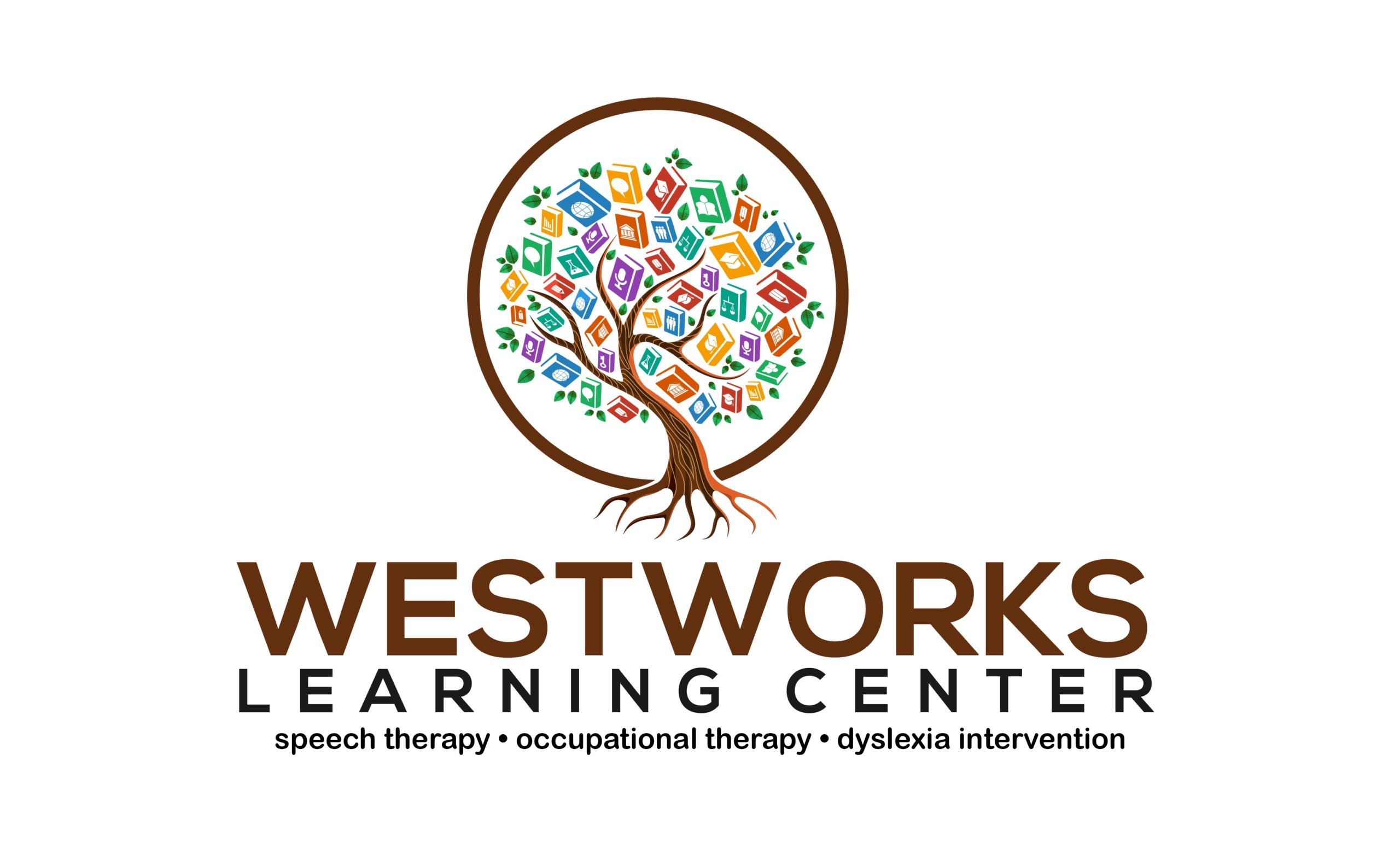 West Works Learning Center
WestWorks Learning Center
provides speech-language therapy and dyslexia intervention to students in Houston!  We are excited to offer RAD Camp-Read and Discover again this summer.  RAD Camp is specifically tailored for students with dyslexia!  We provide explicit, systematic, and multi-sensory instruction in reading intervention based on the Neuhaus curriculum in addition to hands-on creative projects, movement activities, and social play.
Camp runs 9-12 Monday through Friday for 3 weeks in June.
June 6-10 Outer Space
June 13-17 In the Ocean
June 20-24 Camping Fun
We welcome your student for one week or all three!  Spaces are limited to 10 students per week, so call or email today to reserve a spot.  We also offer individualized 1:1 speech or dyslexia therapy before or after camp.
Cost: $450/week
Captivating Dance by Nona
Captivating Dance by Nona is offering summer camps again! Download the schedule HERE. 
 We believe that dance is an amazing, creative outlet and hope to inspire all our students. We are excited to dance with you!
Is there a CAMP we should know about?