Did you know you can get gorgeous, lasting, award-winning hair color at home? Madison Reed makes it easy! Their award-winning color follows strict guidelines and only include ingredients that nourish your hair. Not ready for at-home color? They also have in-person Hair Color Bars – salon results without salon cost and time.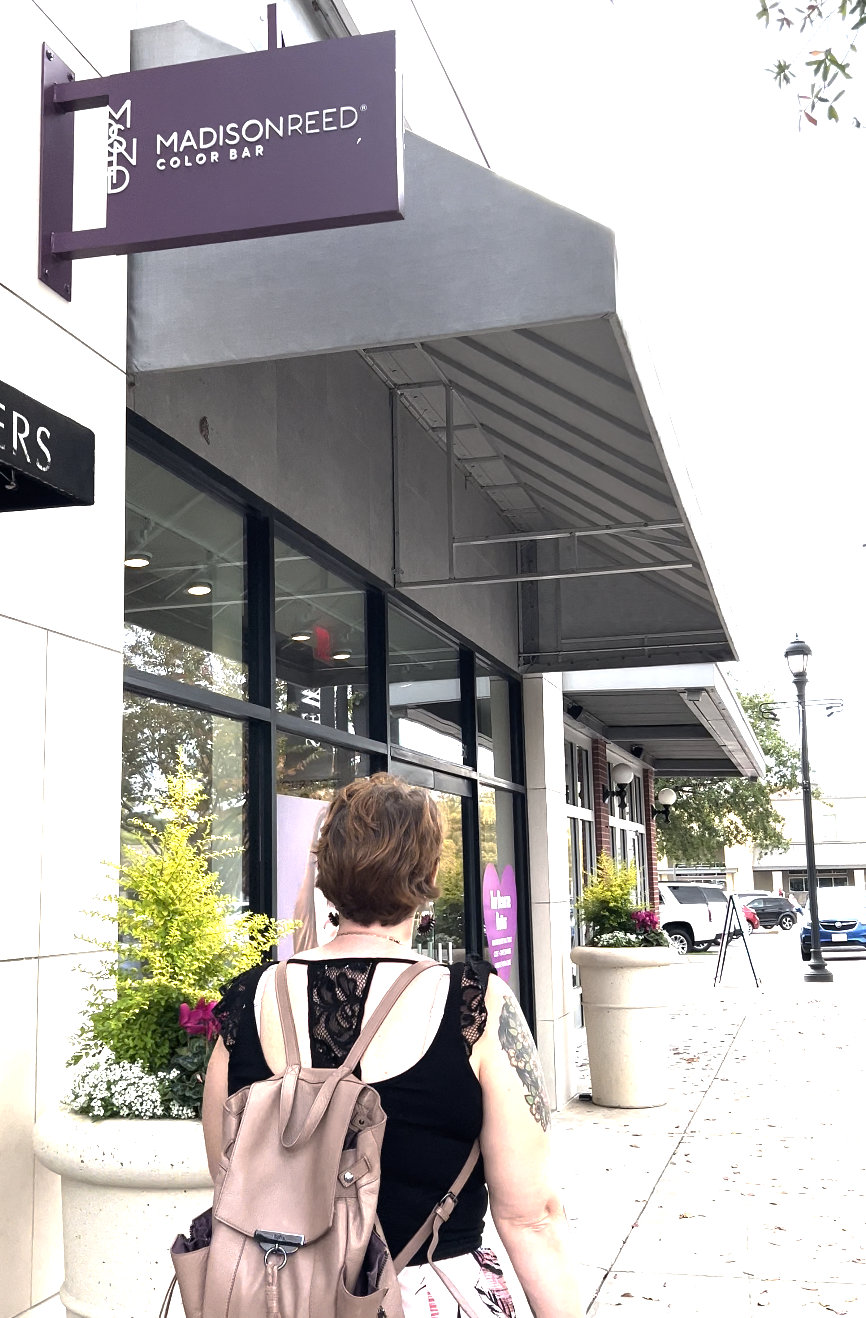 Dana, a Montgomery mom of six-year-old twins, has gone through a variety of hair colors and had severe damage done to her hair a few years ago when her hair was over processed. This led to cutting her hair short to try and get it healthy again – she wanted to give it a fresh start!
And on that health journey for her hair, Dana started looking into her shampoo and conditioner ingredients, realizing some may be doing more damage to her hair. But then she found Madison Reed and decided to make a visit to their Hair Color Bar in The Woodlands.
Madison Reed was started with a simple mission: to provide the best, most luxurious hair color made with ingredients you can feel good about. The company is founded on the belief that we all deserve better. Better hair color made with better ingredients, and better care not only for our hair, but also for clients and community. The founder, Amy, believed in this mission so deeply she named the company after her daughter. They are committed to only using ingredients with integrity. Everything they made is Smart-8 free, free of ammonia, PPD, resorcinol, paragons, phthalates, gluten, SLS and titanium dioxide.
We tagged along with Dana on her first trip to Madison Reed, so we could be sure to share the process with you and of course the after shot of her hair. Upon arrival, we were greeted by Rebecca, Dana's stylist/color specialist. The salon is welcoming, simplistic (just like their mission) and clean.
After on offering of water or tea, Rebecca got right to work discussing with Dana what she was looking for in today's appointment. Going through photos Dana had on her phone of colors she likes and doesn't like was really helpful as Rebecca scrolled through Madison Reed's color library on her iPad to find Dana's perfect color match. Each client has a profile with Madison Reed, so your stylist can easily look back at past colors or treatments you've had done. This info is also accessible to you via their app.
As a natural red head, Dana tends to lean towards more of the reds and copper colors (except that one time she went pink!).
With Rebecca's guidance, they determined together that Madison Reed's Radiant Hair Color in the shade of Carrara Crimson and a dash of their Vesuvius Red would be best for the roots (check out their extensive Radiant Hair Color shades here or take their Color Advisor to find your perfect shade) and a color reviving gloss in the shade of Cannella. Rebecca explained how the gloss would add copper gold tones to red or brunette hair.
She then explained the entire process of what Dana's appointment would look like so she had a very clear idea. Length of processing time, the hair washing process, etc. The communication was great!
Every color appointment starts with barrier cream to protect the skin around the hairline. Once the color was applied, Dana said, "It's wild – in the past when I've gotten my hair done, the color definitely starts to itch and irritate my scalp." Rebecca mentioned that all Madison Reed products are made with better ingredients than the typical hair dyes.
Madison Reed's cream conditioning color is dermatologist tested and crafted in Italy according to strict European Union safety standards for hair color formulation. All of the products are free of ammonia, PPD, parabens, phthalates, sodium lauryl sulfate and other ingredient offenders. This is one of the main reasons Dana was excited to visit Madison Reed. On her journey to getting her hair healthy, ingredients were an important factor.
During Dana's appointment, the salon was full of women coming in to get color done. Many were getting their roots touched up and others were getting roots and highlights. It's a quick way to get a color refresh! When you book your color appointment at the Hair Color Bar, you can add a blowout to your service, or you can blow dry yourself at the salon. That's such a nice option if you are wanting to save money or if you are in a time crunch.
After her hair had time to process, Dana went back to the rinsing bowls. Rebecca used a Bond Building Cleansing Treatment to help rebuild the hair. It smelled amazing! Then it was time to blow-dry and see the outcome!!
Madison Reed has two options for color, you can visit a Hair Color Bar like Dana did, or you can get one of their color kits sent to your house to do the color at home! The website is FULL of wonderful and informative information.
Hope you can visit one of the Hair Color Bars! Tell them we sent you 🙂
The Woodlands
9595 Six Pines Dr Suite 1360
The Woodlands 77380
Katy
23501 Cinco Ranch Blvd Suite R-100
Katy 77494
Rice Village
2515 Amherst St #A126
Houston 77005
Sugar Land
16535 Southwest Fwy Space 2003
Sugar Land 77479